Texas Library Association 2018 Conference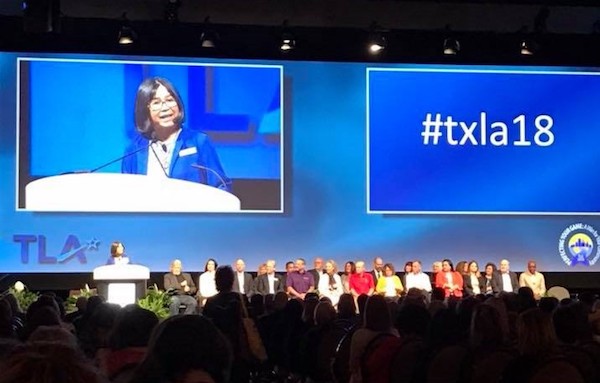 Ling Hwey Jeng, Ph.D., professor and director of TWU's School of Library and Information Studies, officially ended her term as president of the Texas Library Association at the organization's 2018 conference April 3-6 in Dallas.
A total of 7,383 people attended the conference, which featured:
325 concurrent sessions
875 speakers from Texas and other states
435 exhibitors
More than 200 authors signing books
Seventy people attended the TWU SLIS reception at the Omni Hotel, including alumni, students, faculty and friends. COPE Dean Lisa Huffman and TWU Provost Alan Utter were welcome guests.
The SLIS booth at the Exhibits Hall had steady traffic throughout the four-day conference, and had:
18 prospects sign up for admission application information
More than 20 employers who left contacts and messages with job announcements and/or requests for practicum students
More than 50 alumni who signed up to participate as an Alumni Ambassador in our AlumniConnect program, which provides an informal mentor and a professional resource for our current students.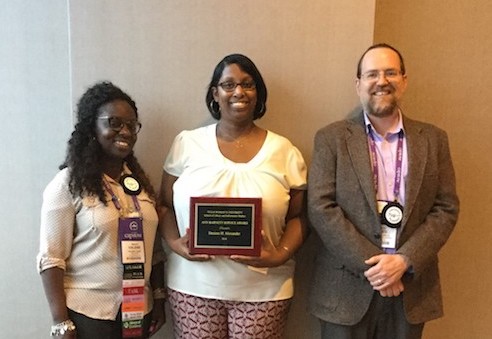 TWU SLIS presented two alumni awards at the reception. Desiree Alexander (MLS 2008) was the winner of the Ann Barnett Service Award, which recognizes a SLIS graduate for his or her contributions to professional services. Susan Ward (MLS 2012) received the S. Janice Kee Continuing Education Award, which provides a $500 stipend for a SLIS alumna/alumnus for professional development.
In addition to Dr. Jeng, who presided over the entire conference as TLA president, seven faculty members, two adjunct instructors and 44 alumni presented at various programs. (Presentations by current faculty are in boldface:
Tuesday, April 3
Getting Connected with the Global Read Aloud! Tina Beruman (MLS '10 / Coppell ISD)
Redefining Research with Digital Design - Naomi Bates (TWU adjunct/Follett Learning)
Better Together: Schools, Libraries, and Museums - Kathlene Ann Goldin (MLS '08 / Botanical Research Institute of Texas)
Serving Teens of Color - Desiree H. Alexander (MLS '08 / Alexander Consulting) and Valerie Tagoe (MLS '08 / Dallas ISD)
Poetry Rodeo: Winning with Poetry Across the Curriculum - Dr. Sylvia Vardell (TWU faculty) (ticketed event)
Skills without Borders: Taking LIS Competencies Beyond Library Walls - Richard Dickey (MLS '87 / Federal Government)
Up Your Storytime Game with Dual Language and Music & Movement - Bonnie Barber (MLS '08 / Frisco Public Library)
Why the Hell Should I Hire You? - J. Carter Cook (MLS '99 / Fort Worth ISD)
Strategies for Propelling Entrepreneurship - Lisa Smant (MLS '06 / Arlington Public Library)
Wednesday, April 4
Dive into Digital: Tips and Best Practices for Small Institutions - Louis Sherwood (MLS '94 / Texas Wesleyan University)
Go for the Gold: Open Access Searching in Reference and ILL - Jessica Randle (MLS '15 / University of Texas at Arlington)
Together We Do More: Academic-Public Library Collaboration - Kimberly Bowen (MLS '13 / Denison Public Library)
Winning with Chess in Your Library - Kerol Harrod (MLS '14 / Denton Public Library)
Libraries Ready to Code (Innovation Lab 1) - Dr. Jennifer Moore (TWU faculty)
TLA's Author Signing Aisle - Dr. Rose Brock (MLS '03 / PhD '13) Hope Nation: YA Authors Share Personal Moments of Inspiration
In It to Win It! Ways to Connect and Collaborate Professionally -- Kirsten Murphy (MLS '04 / Trinity Valley School, Fort Worth)
Insect Pests in the Library - Deborah Hathaway (MLS '16 / University of Dallas)
Jane Yolen & CRT Business Meeting - Kerol Harrod (MLS '14 / Denton Public Library)
Perfecting Your Technical Services Game - Hannah Olsen (MLS '14 / Duncanville Public Library)
The Deliberate Librarian: Evidence-Based Practice in School Libraries - Jackie Chetzron (MLS '02 / Dallas ISD / TWU adjunct), Dr. Aaron Elkins (TWU faculty) and Dr. Jennifer Moore (TWU faculty)
Services for Community Users at an Academic Library - Margaret Dawson (MLS '05 / Texas A&M University at Central Texas)
Building Popular Reading Collections in Academic Libraries - Margaret Dawson (MLS '05 / Texas A&M University at Central Texas)
Build Your School Library Advocacy Network - Irene Frances Kistler (MLS '14 / Alamo Heights ISD) and Jennifer Rike (MLS '01 / Mansfield ISD)
Leverage Your Resources to Help Your Public Library Flourish - Elizabeth Chase (MLS '13 / Frisco Public Library)
Uno, Dos, Tres: Bilingual Early Literacy in Libraries - Michelle Touchet (MLS '08 / Dallas ISD)
Thursday, April 5
An Anti-Bias Approach to Literacy - Lisa Taylor (MLS '91 / Wiley College)
Tableau: Interactive Data Visualizations for Your Library - Karen Raborn (MLS '09 / North Richland Hills Public Library)
TLA 101 - How it Works and How to Get Involved - Dr. Ling Hwey Jeng (TWU SLIS Director / TLA President) and Jennifer LaBoon (MLS '01 / Fort Worth ISD / 2019 TLA President)
Two for One: Dual Credit & Early College High School Programs - Jennifer Rike (MLS '01 / Mansfield ISD)
What IS a TALL Texan? And Why Would I Want to Be One? - Cecily Ponce de Leon (MLS '09 / Plano Public Library) and Aundrea Wright Young (MLS '06 /
Dallas ISD)
Driver's Ed: Using Google Drive and Apps - Desiree H. Alexander (MLS '08 / Alexander Consulting)
Public and School Libraries: A Winning Partnership - Corine Barberena (MLS '05 / Irving Public Library)
Community Engagement in the Real World - Gretchen Trkay (MLS '04 / University of Texas at Arlington)
Millennials and the Public Library - Dr. Carol Perryman (TWU faculty)
Weeding the Library Collection - Deborah Hathaway (MLS '16 / University of Dallas)
Winning the Game with Instructional Partners - Judi Moreillon (former TWU faculty/ Story Power)
Building Digital Toolkits for Student & Staff Learning - Naomi Bates (TWU adjunct)
Community-Based Project Design for Social Change - Dr. Will Senn (TWU faculty)
Library Development for Special Collections - Kimberly Johnson (TWU Blagg-Huey Library)
Rainbow Families: Serving LGBTQ Families in Your Public Library - Raymond Sablack (MLS '95 / Dallas Public Library)
14th Annual Poetry Round Up - Dr. Sylvia Vardell (TWU faculty)
Building a Space for Data - Peace Ossom-Williamson (MLS '13 / University of Texas Arlington)
eBooks: eTricks, eCreate & eTrends - Kimberly Gay (MLS '03 / Prairie View A&M University)
Managing Your Management Style - Raymond Sablack (MLS '95 / Dallas Public Library)
Not Your Grandmother's Videos - Desiree H. Alexander (MLS '08 / Alexander Consulting)
Friday, April 6
10+ Mind-Blowing Tech Tools - Desiree H. Alexander (MLS '08 / Alexander Consulting)
Community Partnerships: Bridge the Digital Divide Using Edge Outcomes -- Brent Bloechle (MLS '03 / Plano Public Library)
Demystifying Uncle Sam: Government Resources to Answer Community Questions - Melissa G. Fairfield (MLS '99 / Government Publishing Office)
Engaging with the New Adult Now and in the Future - Sarah Opella (MLS '14 / Frisco Public Library)
Payoffs & Challenges: Student Workers in Academic Libraries - Kimberly Gay (MLS '03 / Prairie View A&M University)
Programming for Adults with Special Needs - Lisa Smant (MLS '06 / Arlington Public Library)
What's Your Retirement Game Plan? - Susi Parks Grissom (MLS '01 / Retired school librarian)
Page last updated 11:01 AM, June 29, 2018