TWU alumna overcomes hardships on journey to Austin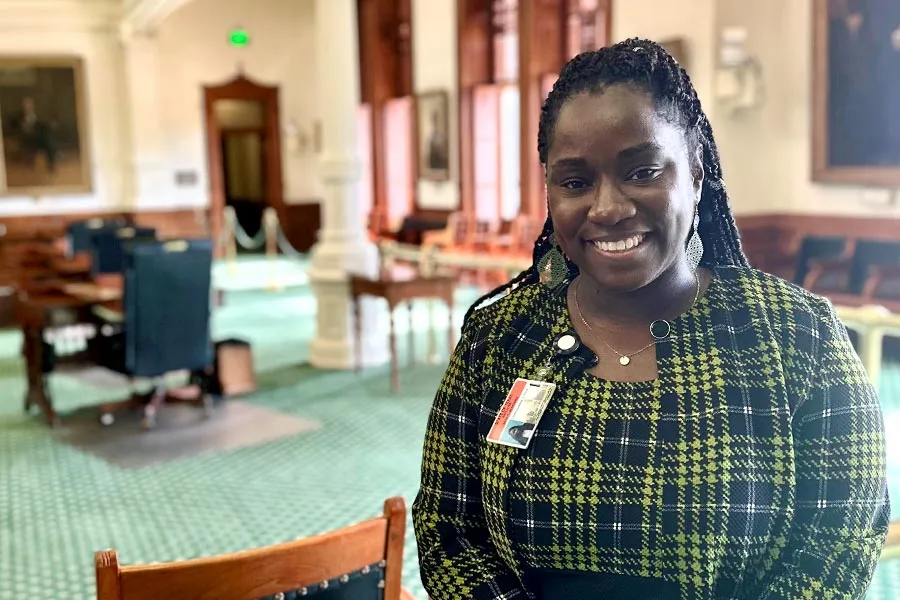 Feb. 1, 2023 – DENTON – Dawna-Diamond Tyson's life has been a bit of a rollercoaster.
Abandoned by her birth mother. Adopted by loving parents at age 2. Told she was intellectually deficient in primary school. Nurtured and supported in her post-secondary education.
"It's been a very wild ride, to say the very least," Tyson said.
Now, with a master's degree in political science from Texas Woman's University in hand, Tyson is riding high again. A few months after graduation, Tyson is in Austin for in the 88th regular session of the Texas Legislature as a policy analyst for José Menéndez, state senator from San Antonio.
With the adversity and triumph of her early life story, it comes as no surprise that Tyson enters public service with her own agenda. No, she's not looking to cure all the world's ills. She's more pragmatic than that.
She wants to give hope to those who face the same kind of challenges and doubters that she has overcome.
"My heart is really in making sure that children don't end up like me in the system," she said. "I was very fortunate to have two parents adopt me and help guide me where I want to be. I have always had an interest in being on a path to make change somehow.
"It wasn't until I got to college that I learned more about politics," Tyson said. "President Barack Obama was really eye opening for me. His whole thing was hope and change, and that's what I wanted to do from a very young age. More people were like, okay, we have an opportunity to do better. We can do better. We need more people listening and trying to do better. And so that really got me into listening and learning and trying to absorb more about the political world. I am very much still learning about a lot of things."
Some things were learned first-hand, conquering obstacles that most cannot comprehend. Tyson was one of those abandoned children in foster care, and, after being adopted, she faced discrimination and rejection by a school system that tried to push her into special education because she wasn't learning as fast as other students. Other students, presumably, who were not abandoned and placed in foster care.
Her parents said no to the school's recommendation, insisting that Tyson just needed a chance like everyone else.
"It was very hard," Tyson said. "They didn't want my parents to enroll my brother and me in the school. They said that it was too full, and obviously that wasn't the case. It was very hard being in a predominantly white institution that made it very clear that they did not really want other children of color there."
The barriers continued through middle and high school.
"I kind of just drifted through it," she said. "It was still really hard. It shaped me a lot. I don't really speak a lot on just growing up and being educated because it was pretty traumatizing, and only recently have I spoken out about it. But for me, I feel like I've been shaped every single year everywhere from school to just living and trying to figure out what my next move is."
Buoyed by her parents' support, Tyson made it to college, first at Vernon College in Wichita Falls and then Collin College in McKinney. And that's when things changed.
"It wasn't until I got to college that I was like, okay, I have no one from my past to judge me, and I can do better. This is a fresh start. That's when things kind of just took off for me. I didn't let anything hold me back. I did my best and I tried my best, and it paid off."
College can take the guiderails off a life, in one breath supporting and in another requiring responsibility. In that environment, Tyson flourished.
"I got a chance to be myself," she said.
In the second half of her undergraduate work, Tyson involved herself in student government and campus life, and became motivated to be a part of change on campus.
"Having people around me that felt the same and that encouraged me, it was really great. It was transformative for my life.
"TWU was probably where I felt like I just went up so much with my confidence," she said. "TWU has so many organizations, so many ways that you can get involved on and off campus."
But she remained steadfast in the ultimate goal of her education.
"My parents told me from a very young age that I could be whatever I wanted to be," Tyson said. "I've always wanted to become an attorney."
Her first steps toward becoming a lawyer began with a bachelor's degree at Collin College. That school did not offer political science, so she majored in criminal science. Halfway through undergraduate education, she interned in the Collin County district attorney's office, which convinced her she did not want to practice criminal law.
But her master's degree in political science opened new doors, and in Fall 2022, she was hired by Senator Menéndez. That hire came with an early lesson about frailty of job security: Menéndez was up for re-election in November 2022. Fortunately for Tyson – and Menéndez – the senator won and this month returned to Austin to conduct state business.
So now comes another educational experience as Tyson dives into the deep end of public service.
"It's been a learning experience for sure," Tyson said. "It's been a huge learning curve because my chief of staff wants to make sure that everyone is on board and ensure that no one's left behind in the process. I've heard from people I know that it is very intense trying to learn and get training. I've just tried to absorb everything like a sponge since I've been here. It's hard, but the experience so far has been super easy for our office. It's not a place to pressure someone that learns a little bit differently or at a different pace. There are expectations that you have to get things done and this is a very fast paced environment, but there's nothing they wouldn't be able to help me with.
"I feel like there's a lot of my position that you just have to experience," she said. "You have to see it firsthand. And there's some things that just even if you're taught it, unless you experience it, I feel like you can't truly absorb what is going on. A lot of classes were really beneficial in terms of terminology and the inner workings of state and federal government. But there comes a point to where experience is more helpful than just reading and researching."
By coincidence, that chief of staff, Pearl Cruz, is herself a former policy analyst who went to law school.
"I mean, she's 29, she's an attorney, and she's had all of this experience, and she said she wouldn't change it for the world," Tyson said. "I hope I get similar experience. I feel even more motivated to go to law school."
"It's all about the journey for me," Tyson said. "I'm still figuring out some things. I hoped and hoped and hoped for an opportunity like this. And then when I got here, it was immediately self-doubt. It was like, how am I here? How am I going to do this? But everyone had to start somewhere. Everyone has a beginning. So I'm really looking forward to my beginning, and hopefully it's a good ending."
Media Contact
David Pyke
Digital Content Manager
940-898-3325
dpyke@twu.edu
Page last updated 4:08 PM, February 1, 2023