Camp benefits children, OT students
Aug. 21, 2019 — DENTON — Graduate students in occupational therapy worked alongside Scottish Rite's neurology and occupational therapy research teams this summer to implement a constraint induced movement therapy (CIMT) camp for children diagnosed with hemiplegic cerebral palsy. It was the second year TWU students have participated in the camp, and assistant professor Heather Roberts, PhD, says it will be an annual event.
Roberts and adjunct faculty member Angela Shierk, PhD, worked with approximately 40 TWU occupational therapy students during the two-week camp held at Scottish Rite Hospital in Frisco. Roberts said she has conducted research with the neurology team on various projects, including the CIMT camp, since 2005. When she joined the TWU faculty in 2018, she worked with School of Occupational Therapy associate director Christine Chen, ScD, and colleagues to involve students in the camp as an experiential learning opportunity.
"The students were involved in constructing an intensive group-based, two-week CIMT camp," Roberts said. "Children who met the study's inclusion criteria participate in CIMT, a form of treatment where the child's stronger arm is put into a splint, forcing them to use the affected arm for daily activities. Our students planned and created fun, goal-oriented games and activities that targeted specific movements to improve the function and use of the affected arm."
Camp activities included games, art projects, outdoor activities, sensory play activities and bi-manual activities. Children attending the camp ranged in age from 6 to 12, and each had different levels of range of motion.
"That is something unique about working with children who have cerebral palsy," said Odemaris Ramirez, a master's student from Dallas. "No two children are the same, because cerebral palsy can affect a child in many ways, not just physically."
Deborah Walker, a master's student from Frisco, said some children could not fully extend their elbows or grasp small objects. Other children had an almost full range of motion in their affected arm; they just move slower with that arm than with their dominant arm.
Walker said the TWU students' main role was "to support the children when they were struggling and to adapt the activities to make it an appropriate challenge for the child."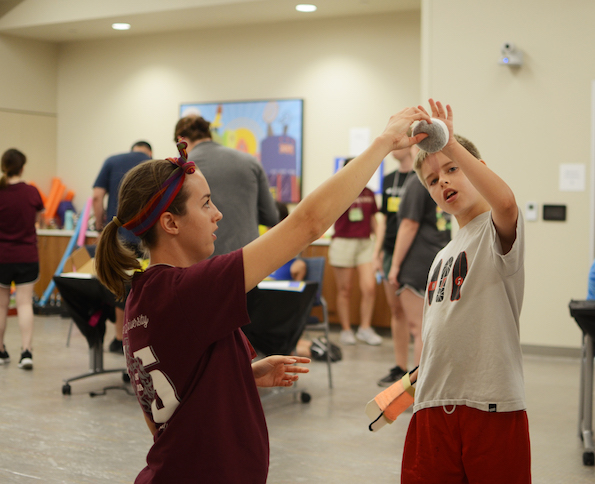 Most of the children had measurable improvement at the end of the two-week camp, said Chris Hawkins, a master's student from Justin.
"One camper was there for their fourth time, and from the first year to where they are now was remarkable," Hawkins said. "In talking to them and their parents, the camps do make a difference for these children in improving both their neurological disorders and mental health by providing a fun way to train together, developing friendships along the way."
At the end of the two weeks, the TWU students gave each camper a transfer packet created just for them. Each packet included a specific goal with suggested activities the children could continue to practice at home for their own improvement.
The campers weren't the only ones to benefit from the experience. Walker, whose goal is to be a pediatric occupational therapist, said she gained a lot of hands-on experience.
"I was able to practice my skills and to practically plan a day of camp independently," she said.
Hawkins, who served in the U.S. Army and plans to work with veterans and athletes with disabilities, said it was "uplifting to see these kids work so hard. It motivated me to do the same."
Ramirez, who wants to serve as an advocate for children with special needs, had a special reason for wanting to take part in the camp.
"My little brother, who was born with cerebral palsy, used to be part of this camp," she said. "I remember he would talk about how hard some of the activities were, but it was his favorite part of summer. Even today, he will talk about all that he learned at the camp, and I can see him being more aware of using both his arms. This time around, I got to be part of this camp, but from an occupational therapy student perspective in which I was able to impact a child's life!"
Page last updated 10:26 AM, August 29, 2019