Alumna returns to TWU for opportunity to study nanomedicine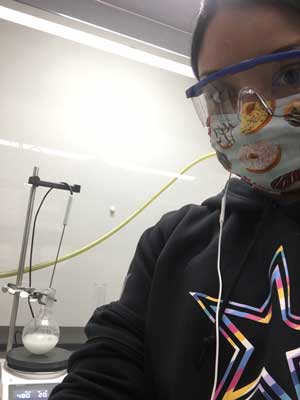 May 13, 2021—DENTON—Jessica Hernandez always knew she wanted to go into the health care field. After graduating from Texas Woman's with her bachelor's degree in biology in 2013, she worked as an allergy specialist, a medical assistant and a patient caretaker, but these positions didn't match her long-term aspirations.
Medical research fascinated her, so she decided to pursue a master's degree in chemistry because she knew it would be a challenge: "It has always been my weakest subject but I've realized that it is the basis of understanding why and how things work at a molecular level. And, I also want to prove to myself that I can overcome my weaknesses."
She already was planning to return to TWU for her Master of Science (MS) degree when she got an email from the TWU Alumni Engagement office announcing a new scholarship exclusively for alumni pursuing a second degree from the university: The TWU Alumni Graduate Education Scholarship. She knew she had made the right decision to get her MS at TWU when she applied and was awarded the scholarship.
In addition to working as a teaching assistant for two sections of physics labs in the Department of Chemistry and Biochemistry, Hernandez jumped right into nanomedical research. Under the guidance of Associate Professor Nasrin Mirsaleh-Kohan, PhD, she is working to understand how platinum-based chemotherapeutic drugs modify and affect DNA stability.
"Nanomedicine excites me because it has the potential to revolutionize the treatment of diseases," Hernandez said. "The bad thing about cancer drugs is that they do not just target cancerous cells but also normal cells. We are trying to understand exactly how this cancer drug interacts with DNA. Knowing exactly how this drug works and interacts with DNA, we can find another drug (similar to it) that will hopefully be just as effective but less toxic."
Now, she's starting the application process for medical school, which she plans to begin after graduating with her master's in spring 2022. However, she doesn't plan to stop her research. She's considering adding a PhD to her resume, as well.
With a passion for travel, a desire to help others and the determination to take on challenges, Hernandez is bound to make a difference no matter where her career plans take her.
About the TWU Alumni Graduate Education Scholarship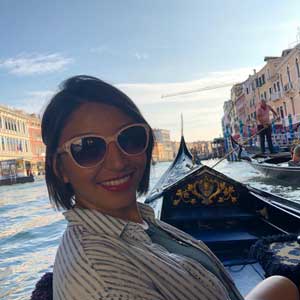 At TWU, once you are a Pioneer, you are always a Pioneer. The Alumni Graduate Education Scholarship, valued at $1,000, was established to provide funds to TWU alumni interested in pursuing an advanced degree from their alma mater.
This program is open to all TWU alumni who meet admissions requirements and are not in the middle of a graduate program at TWU or another university. Alumni must apply to the TWU Graduate School and submit all supporting materials by July 1, 2021, to qualify for the 2021-22 academic year.
Visit the Alumni Graduate Education Scholarship website for more information and complete the scholarship interest form today.
Page last updated 9:40 AM, May 13, 2021