TWU students tapped for civics leadership forum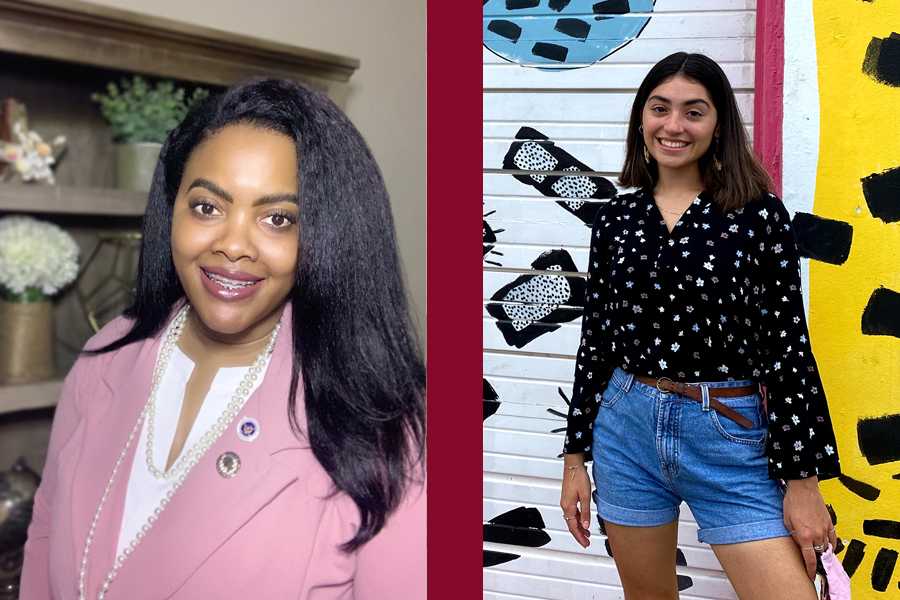 Aug. 13, 2020 — DENTON — TWU students frequently strive to make a difference in their communities, and two undergraduates are going to do just that after being selected as Texas Civic Ambassadors (TCAs) by the New Politics Forum at the University of Texas at Austin. This prestigious program provides opportunities for college students destined for civic leadership.
Chanel VanHook and Fiama Villagrana-Ocasio, both juniors majoring in political science, join 29 other university students from across the state in this year-long program focused on civic service learning, training, outreach and mentorship. This is the first year TWU students have been selected to participate in this scholarship program.
"Having two students selected as ambassadors falls in line with TWU's motto of 'learning by doing,'" according to Tammy Key, interim director of TWU's Center for Women in Politics & Public Policy (CWPPP), which is part of the Jane Nelson Institute for Women's Leadership. "Not only will Chanel and Fiama be getting specialized training, they also will be responsible for creating a nonpartisan educational outreach initiative that they can implement at TWU and beyond. These students will be the civic leaders to watch in the future."
VanHook, a U.S. Navy veteran, plans to establish TWU KNOWS (Together We Understand Knowledgeable Nonpartisan Outreach Works for Students), an organization focused on educating first-time voters, both on college campuses and local high schools, on the end-to-end election process. This includes holding bimonthly voter registration events as well as mock elections so students are more familiar with the experience and more apt to vote during real elections.
"I am a non-traditional student with a unique perspective and passion for young adult activism," VanHook said. "As a TCA, I plan to use my past experiences to connect my fellow TWU students with their diverse peers, forming nonpartisan alliances and spreading awareness about the power students wield when answering a call to action."
Villagrana-Ocasio, who intends to go to law school after graduation, wants to create change systematically and be a voice for the LGBTQ Latinx community. Her project—an inclusive civic engagement initiative—will provide options for individuals who cannot vote.
"Very often, civic engagement places a large emphasis on voting without recognizing that our current society sees voting as a privilege and not a right," she said. "To make civic engagement more inclusive I want to present alternative things students can do to be an ally and remain civically active if they cannot vote."
This year marks the fifth class of Texas Civic Ambassadors. Over the last half decade, the New Politics Forum has equipped ambassadors with the tools needed to enact effective, nonpartisan, civic-based change throughout Texas. Previous ambassadors have founded nonprofits focused on gender equality in public office, hosted nonpartisan debates for down-ballot candidates, and instituted long-term voting-based traditions across the state. The CWPPP is one of the program's sponsors this year.
About the Jane Nelson Institute for Women's Leadership
The Jane Nelson Institute for Women's Leadership at Texas Woman's University is dedicated to preparing more women to take on successful roles in business and public service. Through the institute's three specialized centers—Center for Student Leadership, Center for Women Entrepreneurs and Center for Women in Politics & Public Policy—women get the education to establish careers as successful C-suite executives, the skills for building entrepreneurial businesses and the framework needed to run for public office.
Media Contact
Deanna W. Titzler
Director of Public Relations
940-898-3252
dtitzler@twu.edu
Page last updated 10:48 AM, May 17, 2022