TWU Library to add pandemic voices collection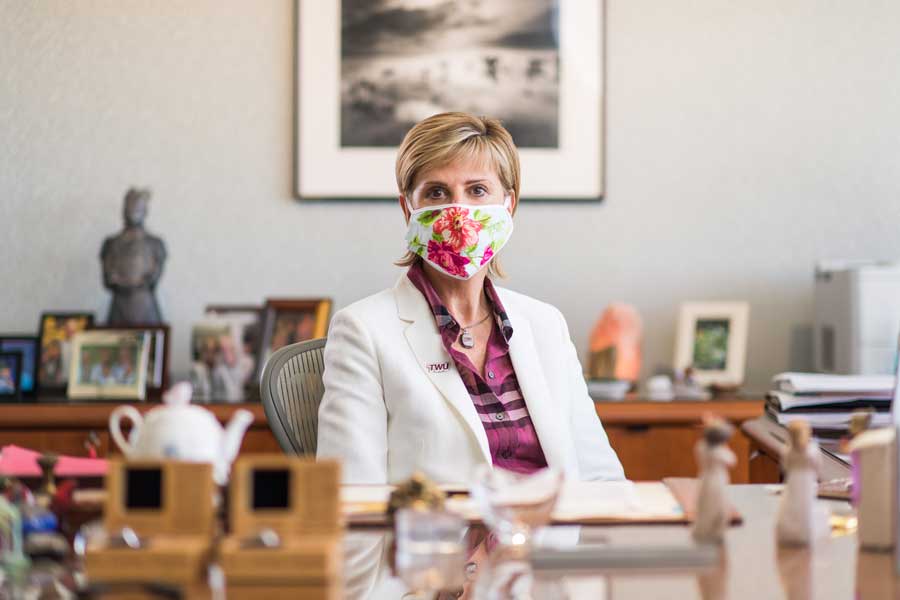 July 29, 2020—DENTON— The COVID-19 pandemic already is a historic event, and the narrative that will help define it years from now includes everything from tales of heartbreak to acts of heroism.
To help chronicle its impact and add rich context to its ongoing challenges, Texas Woman's University is embarking on a project to collect writings in multiple forms as part of a new collection called Voices of the Coronavirus Pandemic: The Chancellor Carine M. Feyten Collection at Texas Woman's University.
The project is being undertaken by the Special Collections Division of TWU's Libraries and the university's Jane Nelson Institute for Women's Leadership. The entities jointly will collect, maintain and make available to students, scholars and others materials related to the international coronavirus pandemic that became a major public health and economic crisis beginning in the early spring of 2020.
Submissions will include personal narratives, journals, letters, diaries, op-ed pieces, essays, poems, creative works in fiction or drama or other genres, songs, audio recordings, videos and films, photographs, drawings, or other expressions regarding the pandemic in any medium.
"The intent here is to gather as many voices on the topic as possible," said Phyllis Bridges, a TWU Cornaro professor in the English, Speech and Foreign Languages Department and the project's coordinator. "Those who have worked at the forefront of the pandemic, including health professionals, social workers, first responders, laboratory professionals, therapists and others obviously have experiences to share that will reveal realities of the crisis and offer reflections on this challenging human experience."
Other members of the project team are: Mary Anne Alhadeff, Jane Nelson Institute for Women's Leadership; Kimberly Johnson, TWU Special Collections; Katherine Landdeck, TWU Department of History; Shannon Mantaro, Jane Nelson Institute for Women's Leadership; and Claire Sahlin, TWU Graduate School /Multicultural, Women's and Gender Studies.
Although the writings are not limited to the university community, TWU accounts for many compelling anecdotes that help tell the story of the pandemic. Among them:
Texas Woman's University nursing alumni Courtney Waddle and Maybelle Anderson, whose valiant efforts clearly helped save dozens of lives while the two worked the front lines of the harrowing COVID-19 response in New York City, which erupted as the nation's most dangerous hotspot in April.
TWU faculty member Fuqin Liu's heroic campaign to collect hundreds of thousands of pieces of medical protective gear for health professionals across North Texas and into Oklahoma, which no doubt prevented countless infections during the early stages of the coronavirus.
TWU nursing students Douglas Schwartz and Jackie Tran helped guide hundreds of anxious individuals through important COVID-19 testing last spring, ensuring they had the resources they needed if they became infected with the deadly virus.
The Special Collections Division and the Jane Nelson Institute invite all persons to share their contributions by submitting their materials beginning on July 31, 2020 to https://twu.edu/library/womans-collection/collections/covid-19-collection/.
The materials will be gathered and maintained in the archives of the Special Collections Division of the TWU Libraries on the Denton campus. Exhibits and displays of submissions may be shared on the TWU campuses in Dallas, Denton, or Houston, as well as in other appropriate venues.
Media Contact
Matt Flores
Assistant Vice President, University Communications
940-898-3456
mattflores@twu.edu
Page last updated 12:45 PM, July 29, 2020