TWU herbarium director receives conservation award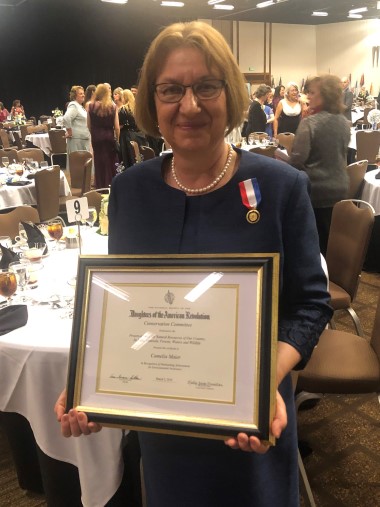 April 15, 2019 —DENTON— Texas Woman's University biology professor and herbarium director, Camelia Maier, Ph.D., received the National Society Daughters of the American Revolution (NSDAR) Conservation Medal at the 120th Annual State Conference of the Texas Society Daughters of the American Revolution. In addition to the medal, Maier received a certificate from Texas State Regent Susan Tillman at the awards dinner in Houston in March.
The Captain Nathaniel Mills Chapter, established in 1962 and located in Hurst, nominated Maier last fall after chapter members Donna Moore and Ann Marie Thompson visited the Dr. Bettye Myers Butterfly Garden and discussed the project with Maier, who serves as chair of garden's advisory committee. The nomination focused on Maier's volunteer work on the butterfly garden, her recent procurement of an EPA grant for the garden totaling nearly $75,000, and her volunteer service in the local community. A panel of non-NSDAR judges reviewed the nominations submitted by chapters throughout Texas and selected Maier for the award in December.
Approximately 1,000 NSDAR members and guests attended the awards dinner. Other TWU representatives attending the event were Diana Elrod, Ph.D., director of the Center for Student Research, and biology doctoral candidate and instructor Paramita Basu.
About the National Society Daughters of the American Revolution
NSDAR was founded in 1890 as a women's service organization and today has more than 185,000 members in 3,000 chapters around the world. The society's three focus areas are patriotism, historic preservation and education. The NSDAR Conservation Committee was established in 1909, and part of its mission is to encourage the recognition of individuals with a distinguished volunteer conservation record.
###
Page last updated 12:03 PM, February 24, 2020