TWU's mascot has a name!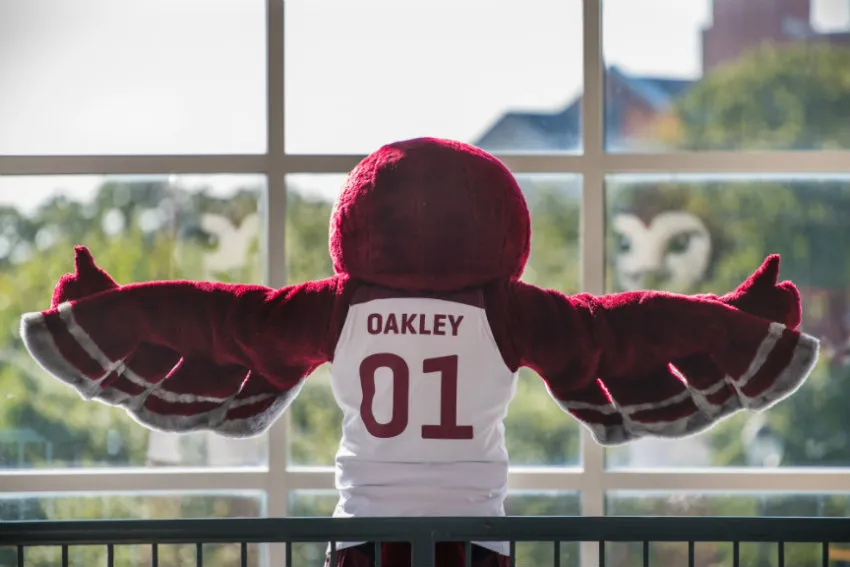 Oct. 4, 2018 — DENTON — When Texas Woman's University unveiled the owl mascot last year, students, alumni, faculty, staff and community members were asked to choose the name. The votes have been tallied, and today university officials have announced that in honor of long-standing TWU traditions, the Pioneers' owl will be known as Oakley.
Oakley pays homage to the oak leaf in TWU class rings and the oak leaf chain embroidered on the cuff of TWU's baccalaureate regalia. The name also represents the tradition of seniors' last walk through campus holding an oak leaf chain that symbolizes the passing down of strength, knowledge and traditions of the university.
"Until the owl was revealed last year, the university never had a mascot to go along with the nickname, Pioneers" said Chalese Connors, TWU Director of Athletics. "Now our owl has a name that reminds students and alumni of their TWU journey."
TWU received more than 300 name suggestions earlier this spring. That list was narrowed down to just four options and more than 3,250 votes were cast last month. Oakley was the overwhelming favorite chosen by both students and alumni.
Inspired by the statue of the Pioneer Woman on Texas Woman's Denton campus, lovingly dubbed "Minerva" by students, the owl of Minerva is the warrior-goddess's mythological companion. Steadfast and erudite, this sacred animal is the ideal representation of Texas Woman's student-athletes commitment to excellence in competition and in the classroom.
TWU Athletics teams have been known as the Pioneers since 1979 when then president, Dr. Mary Evelyn Blagg-Huey, announced in her radio broadcast that the pioneer would be adopted as the school symbol. She said, "TWU has always been a pioneering institution...we regard the pioneer not just as a symbol of past accomplishments but as a promise that we will continue always to seek new horizons."
Look for Oakley during this week's Family Weekend activities, including the volleyball match up between the Pioneers and Eastern New Mexico at 7 p.m. on Friday, Oct. 5 in Pioneer Hall. To request Oakley for your event, visit the Pioneer Pride Dance Team website for details.
###
Media Contact
Amy Evans
Director of Student Life Communications
940-898-3607
aevans18@twu.edu
Page last updated 3:05 PM, November 17, 2020