TWU graduate turns traditional nutrition coaching upside down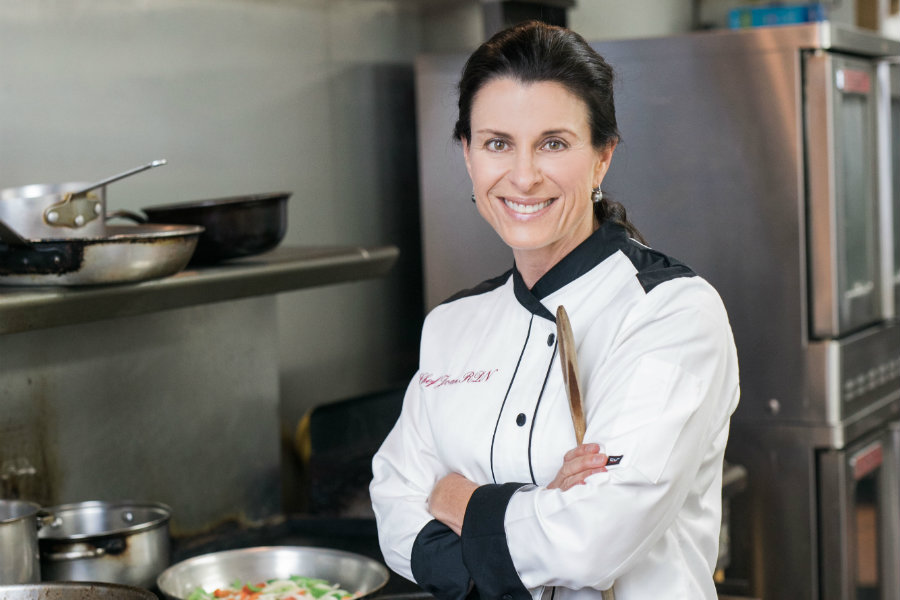 April 20, 2018 - Joan Denton (MS '18) knew she wanted to be a registered dietitian, but never felt at ease in a hospital. When she expressed her interests to one of her Texas Woman's University nutrition professors, Denton discovered she could be categorized as a "culinary dietitian." This set Denton on to create her own path in the field of nutrition.
Denton and her nine siblings were raised by her father, who worked in "troop support" at the Pentagon, making sure members of the U.S. military had access to healthy rations. At 7 years old, Denton started preparing healthy meals for her family and recalls her dad walking her through cooking basics over the phone.
"I was born a foodie; I loved to cook, bake and eat," she reminisces. "I also longed to come home to a traditional home filled with the aroma of a wonderful, healthy meal being prepared in the kitchen. I wasn't able to get that as a child, but over the years, through trial and error, I taught myself how to cook and was able to provide that for my own family."
Her childhood experiences inspired Denton to become a chef. She holds a culinary degree from Le Cordon Bleu, and pursued her Master's in Nutrition at TWU to help others learn healthy cooking to manage illness or conditions in a one-on-one training style she never had.
However, Denton struggled finding a business that did what she wanted to do, how she wanted to do it and quickly realized there weren't registered dietitian nutritionists in the area who were also classically trained chefs.
"It made sense to just start my own business and do things my way," she said.
That inspiration sparked Culinary Cures>, a one-on-one culinary business that allows Denton to bring accommodating and personal nutrition coaching experiences to her clients' home kitchens.
"Meeting people where they are is comforting for those in need, and it's much easier to do that in their familiar surroundings," Denton said.
Once Denton decided upon becoming a business owner, TWU's Minerva Entrepreneurial Scholar Program sponsored by the Center for Women in Business (CWB), provided the perfect opportunity to learn the ropes of entrepreneurship through training workshops, events and professional networking.
"The Minerva Scholarship helped me financially so I did not have to stress over how I was going to pay for school and helped me make connections with other students who also wanted to own their own businesses," she said. "The workshops and networking events introduced me to people who explained how to get started and be a successful business owner."
"TWU's Center for Women in Business launched the Minerva Scholarship program specifically for student entrepreneurs like Joan," said Shannon Mantaro, TWU CWB director. "We are pleased to see the ongoing success of Joan's business and will continue to offer her encouragement and support as her business grows."
Denton's time in TWU's Department of Nutrition and Food Sciences (NFS) also grew her confidence as a culinary dietitian and business owner with classes that "challenged me to work harder and dig deeper intellectually." Denton says TWU professors have helped her build her network and make connections that helped her move forward.
Now, she uses science to discuss health and nutrition with her clients and others interested in culinary dietetics. In Fall 2018, Denton will co-lead "Culinary medicine for health care professionals," an event at TWU that showcases how doctors and others in the medical field can use food to address the needs of patients.
"Joan will join the very select group of dietitians who specialize in culinary aspects of food," said NFS professor Nancy DiMarco, Ph.D. "Joan is well positioned to do whatever she desires as she has all the necessary skills."
Page last updated 9:31 AM, October 24, 2022