TWU alumna Rachel Russell brings taste to your table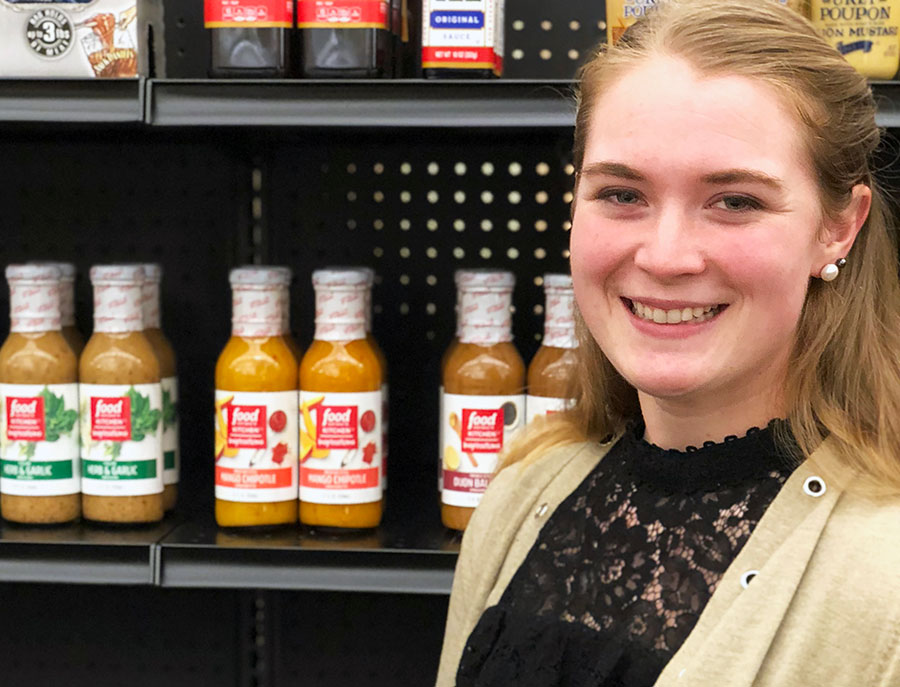 March 28, 2018 - Rachel Russell (BAS '16) might have fallen for the oldest sales pitch in the book, but these days she's not complaining.
In 2015, Rachel transferred to TWU, hoping to expand her culinary arts degree into a career in nutrition. She heard about a meeting for nutrition transfer students that was offering free snacks, and, as a lover of free snacks (and nutrition), Rachel decided to go.
Different degree options were presented at the meeting, but Rachel wasn't feeling like any of them were a fit. That's when she got the age-old sales pitch: "We have a new and exciting program!" It was assistant clinical professor and Culinology® coordinator Angie Griffin, who was making a case for a new degree in Culinary Science and Food Service Management. The more Rachel heard, the more she was sold.
"I'm not sure what caught my interest at first – the sheer excitement from Angie Griffin or the fact that dots were slowly connecting in my mind," she explains. "The culinary science program was the 'more' I was looking for, and all of the sudden, I was glued."
One of the most influential parts of the degree, Rachel believes, was the access to meaningful internships. "Being a product developer is a hard field to get started in," she says. "There are very few doors and they aren't open for long. Internships allow you the opportunity to find your fit within the industry, and allow for much-needed networking opportunities to make sure you are always growing."
During her time at TWU, finding straightforward guidance was never in short supply. According to Rachel, "Not only were the classes and professors specifically targeted to educate me on my career ahead, they never strayed away from giving you truthful career advice. There were many times my professors were ahead of me, and it took a couple weeks to fully register or accept the guidance they gave."
Today, Rachel is a culinary scientist in research development for the grocery business unit at the Kraft Heinz Foods Company. The role has given her the opportunity to work on brands including Kraft Dressings, Classico, Ore-Ida, Devour Meals, Smart Ones and Athenos.
"I'm very fortunate to be able to say I love my job," she shares. "It allows me to be an owner, I get to develop new products every day on over 100 brands, and I work with amazing people."
Alongside those "amazing people," Rachel has more than 30 new products set to hit the market in 2018. Her latest contributions are in formula development for most of the dressings and sauces in the Food Network Kitchen™ Inspirations line of products, which includes items such as Thai Style Sweet & Spicy Chili sauce, and Greek Feta Herb Vinaigrette and Mexican Style Cilantro Lime dressings.
Calling herself "incredibly blessed" to have found her role at Kraft Heinz, Rachel credits TWU with having given her a solid foundation for success.
"I can't help but attribute a large portion of my growth to TWU," she says. "It was the whole package for me. The classes were incredibly relevant, the professors took the time to understand your needs as a student, and you were treated like a young professional every single day. It truly prepares you for a successful start in any career."
###
TWU's Culinology program, the only one of its kind in Texas and the largest nationwide, combines culinary arts and food science education with food product development. Through the program, students can earn certification as a research chef or culinary scientist.
Media Contact
Page last updated 9:34 AM, February 7, 2023