Spencer Williamson, first year student and cancer survivor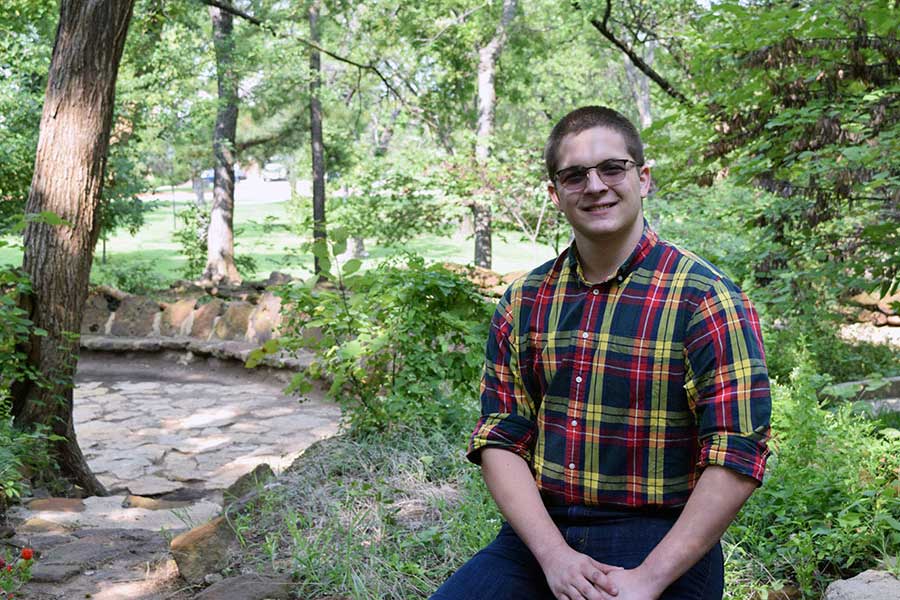 Spencer Williamson's journey as a student at Texas Woman's University has only just begun.
As a child of educators, his passion for learning, sense of servant leadership and hard work ethic were instilled in him early on.
Those would prove to be valuable traits, and ultimately put to the test when at just 13 years old, Spencer received a diagnosis that dramatically changed his life.
For more than two years, Spencer suffered from painful, even excruciating headaches. His vision would blur. He rarely slept more than two hours a night because of the pain. A CAT scan discovered a tumor in the occipital part of his brain, large enough to push on his brain and compress his spinal cord.
The family dropped everything and left immediately for Texas Children's Hospital in Houston. The pressure of the tumor began to make other primary organs slow down. He was scheduled for an emergency surgery that would last 16 hours. The doctor removed a mass, about the size of a softball, leaving behind a small, less aggressive mass.
Spencer's cynical humor helped him to keep his diagnosis in perspective, even naming the tumor "Travis."
Following the surgery and his stay in the pediatric ICU, Spencer began his recovery with two months of hospital rehab. His physical rehabilitation involved learning to walk since the absence of the tumor had left him partially paralyzed. He also had to relearn to read, do math and speak more clearly.
By the time he started high school, life began to normalize…or as much as it could. A teacher helped him identify a passion not typical of most high school students—grant writing. He co-authored two grants producing about $35,000 for his school. He also obtained his Eagle Scout ranking.
For college, Spencer determined TWU would be the best fit and he is planning to apply for nursing school, with hopes of eventually obtaining a nurse practitioner masters. His decision was reinforced during his first visit. He said, "I was blown away. It's beautiful here; it's like an oasis in the city. I love the nature and the trees, and then I started meeting with the staff and I was surprised by how nice everyone is. It's a really uplifting and supporting environment."
Spencer is a grateful person. He's grateful to have had the wonderful support of family, friends and the College Station community, his hometown. He's also grateful for the opportunity to be part of the TWU Honors Programs. Spencer is also a Terry Foundation Scholar, which he gives credit for enabling him to pursue his aspirations.
Spencer's bold aspirations in the face of immense adversity is an example of perseverance, befitting of the name he'll now proudly bear - a TWU Pioneer.
Story by Adam Hengeveld
Media Contact
Staff Reporter
940-898-3456
Page last updated 1:36 PM, October 1, 2021