Alumnus Walter Rivas can stand the heat
Feb. 22, 2018 - The kitchen at Medical City Frisco is constantly in motion — employees are prepping food, cooking, plating, dishwashing, and as in most hospitals, taking care of the special dietary needs of patients. In the middle of it all is Executive Chef Walter Rivas (BAS Culinary Arts and Food Service Management '16), who fortunately loves the hectic pace his workplace offers.
"I do a little bit of everything as the executive chef," he says. "I'm in charge of ordering, creating new contracts, getting new people to work with us, funding resources, scheduling… and anything that has to do with cooking. Part of that is creating new menus — we have a lot of people who are on restricted diets. People who are out of surgery, diabetic patients, cardiac patients. We do our best to accommodate people with good hospital food and try to remove the 'hospital food' stigma as best as we can."
Childhood curiosity is what led Walter to his eventual career. As a kid, Walter was interested in new things, and wasn't afraid to try them. That's what led him to food. "I liked food a whole lot and really just wanted to eat," he says with a laugh. "So getting paid to eat, well, that seemed like a good route for me."
He started culinary school just after graduation from high school, but it wasn't necessarily with the blessing of his family and friends, who envisioned a more industrial career path. "It (culinary school) never seemed like an option," Walter explains. "But I just went with what I wanted to do at the time — and I wanted to work with food, so here we are now."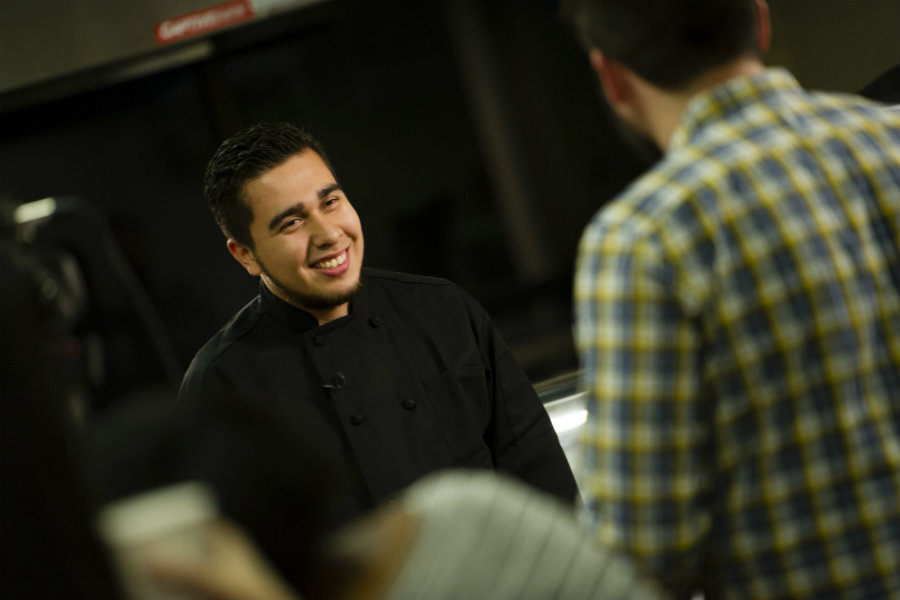 He started out getting his associate's degree from an area culinary program, and while most of his classmates went directly into the workplace with an associate's degree, Walter knew that he wanted to push further with his education. His search for a culinary school with a bachelor's program began by looking at programs in other states. But as he continued to research, he discovered that TWU offered a comprehensive Culinary Science and Food Service Management degree program. Not only was the program particularly suited for students with an associate's degree, it offered a combination of culinary arts and food science training that prepared students for a wide range of careers.
According to Walter, the program was an ideal fit. "The only school that seemed to accommodate everything that I wanted to do was TWU. To top it off, it was close to home and it was relatively inexpensive compared to other schools."
According to Walter, his journey to becoming an executive chef came "through a lot of influence from professors and people at TWU. In particular, assistant clinical professor Angie Griffin, who is a really big supporter for all of her culinary students."
When he began his job search, "I literally told Angie what I was looking for career-wise, and a week later, she called to tell me, 'I have a position for you,'" he says. "By graduation, I was already working at the job I wanted to be at… a position I had always dreamed of."
"Walter is dedicated and tenacious," says Griffin, who is coordinator of TWU's Culinology® program, "I was thrilled to make the introduction so he could interview for the job. His manager hired him in a start-up facility where he would be second-in-command because she felt she could trust him and he had shown a great work ethic."
That work ethic put Walter on the fast track to his current position – one that he says he enjoys every day. "The best part of my job is the team that I have," he says. "I have good people and there is a great environment around us."
"My job is very busy and there are a lot of things that come my way and a lot of surprises," he continues. "But at the end of the day, it's a position that I enjoy. I like running around, I like being busy, I like making people happy. Like most chefs, I think that's the end goal."
###
TWU's Culinology program, the only one of its kind in Texas and the largest nationwide, combines culinary arts and food science education with food product development. Through the program, students can earn certification as a research chef or culinary scientist.
Media Contact
Page last updated 10:25 AM, February 16, 2023