Alumna Kamica King offers healing and hope through the power of music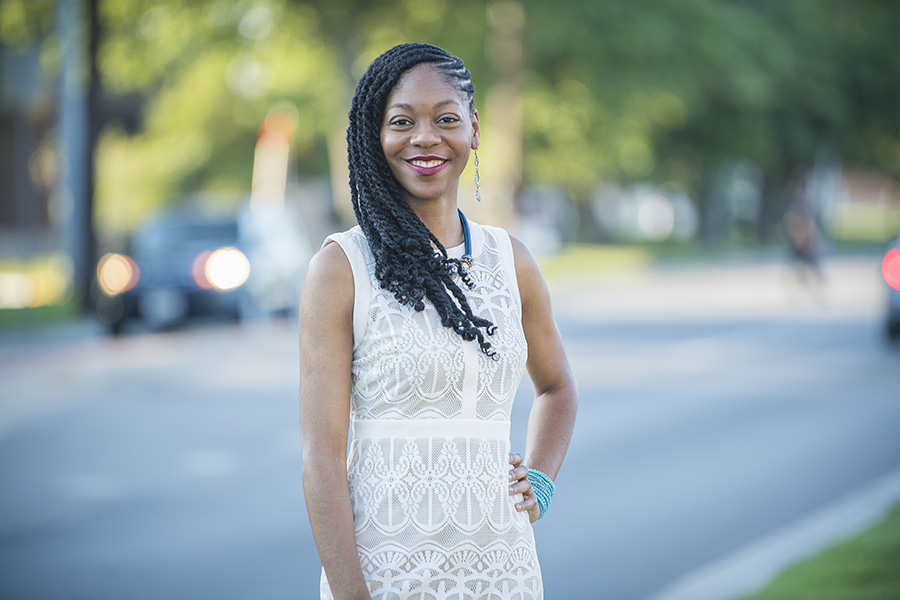 June 26, 2018 – When Kamica King (MA, '18) walked across the Texas Woman's University commencement stage in May 2018, she added a master's degree in music therapy to her impressive list of accomplishments. A board certified music therapist, King is the founder and CEO of King Creative Arts Expressions (KCAE), a company that provides health-based services like clinical music therapy, as well as music-based services such as custom songwriting, live performance and interactive workshops. In her roles as both a therapist and entrepreneur, she offers program development, from consulting to build a new program to helping restructure and grow an existing one.
Over the years, her music therapy work has allowed King to inspire and help people through some of the most difficult times of their lives – those experiencing homelessness; clients who are fighting substance abuse; children with special needs; and people struggling with the effects of mental illness, cancer or other chronic illnesses. Her past clients include The Bridge Homeless Recovery Center, where she created the music therapy program, as well as The Notre Dame School, where she worked with children with developmental disabilities.
"Music is a tool that can be used in a variety of ways within the therapeutic relationship to address needs in order to create change," says King. "I'm passionate about working with those who are often overlooked or underserved in society. In my sessions, it's about connecting with whomever I'm working with in a way that says 'I see you' – not for what you can't do or haven't done, but for who you are and what you can do."
Music has always played a prominent role in King's life. A first-generation American (her parents are from Trinidad), she was exposed to a wide range of music from an early age. As a toddler, King would use the couch as her stage, with ripped pieces of paper serving as "tickets" for the sold-out show for her parents.
Apparently, those early days were good practice – King is now an award-winning singer/songwriter. She has traveled throughout the U.S. and abroad, most recently to South Africa, to learn, record and perform as part of an international collective in the township of Khayelitsha. Stateside, she has performed in New York City at Carnegie Hall and in front of tens of thousands during the U.S. Open at the Arthur Ashe Tennis Stadium. Her original music can be heard in the documentary "Signs for Humanity" and in Which Wich Superior Sandwiches' branding campaign, "Perfect Your Craft," where she was a featured artist.
Beyond the professional accomplishments, King uses her time and talents to give back to the community, serving on the Dallas Mayor's Star Council, the American Music Therapy Association's Diversity and Multiculturalism Committee, and her church's children's/special needs ministries. She's also a sought-after music therapy practicum supervisor and an Inner Circle songwriter for the Sing Me a Story Foundation, where she creates songs from the sensitive stories children have written after losing a loved one.
At TWU, King shaped some of her coursework to suit her interests and took classes in autism spectrum disorders, addictions counseling and even music entrepreneurship through TWU's participation in the Federation of North Texas Area Universities. The Federation, a consortium of three universities – Texas A&M University-Commerce, Texas Woman's University and the University of North Texas – gives graduate students access to the combined academic resources of all three universities.
"The entrepreneurship classes I got to take were incredible for my business development and my growth," she shares. "TWU really offered me the best of every world – more in music, more in music therapy, advanced training courses, music entrepreneurship, and the flexibility to customize aspects of my degree plan. All of it fit my personal and professional needs."
Now a bona fide TWU alumna, King is focusing on building the next phase of King Creative Arts Expressions.
"I've seen the many ways in which music, and the rapport that can be built with it – whether it's with an audience or one-on-one with a music therapy client, develops into a special rapport where transformation happens," she says. "I am so grateful to have found a career where I can use my love and passion for music to create ways to help others."
Media Contact
Page last updated 10:18 AM, July 31, 2018