TWU alum Roxanne Vogel reaches world's tallest peak in record ascent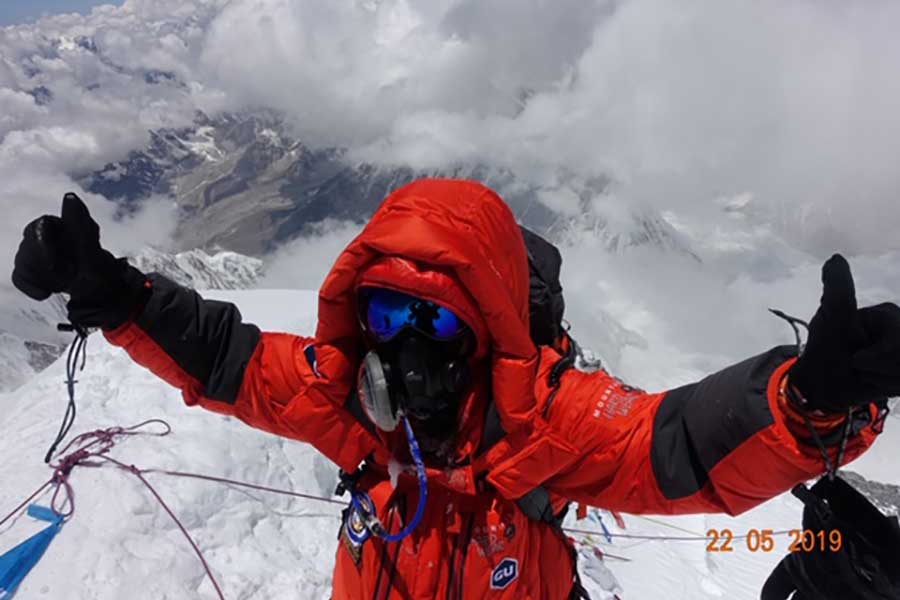 June 10, 2019 - DENTON - Roxanne Vogel is no longer an aspiring Mt. Everest climber. The TWU alumna is now a record-breaking climber of the world's tallest peak.
Vogel (M.S. Exercise and Sports Nutrition, 2017) became the first person to scale Everest – going from sea level up and back down to sea level – in 14 days. She reached the summit in an extraordinary lightning ascent of the mountain, compared with the two months it takes the average climber to complete.
"My initial thoughts when we arrived at the summit after nearly 10 hours of climbing that day were, 'Are we on the right mountain? Where is everyone else?'" she said, adding that her next thought was: "O.K., we are only halfway there, stay focused and get down safely."
Vogel, 33, completed the ascent on May 22 with veteran mountain climber and mentor, Lydia Bradey, on the more challenging north face of the mountain. That day, she, Bradey and their two Sherpas were the first climbers to reach the summit, and the only ones to scale it via the north face.
"I gave every ounce of my being to this goal. It is by far the hardest thing I've ever done," Vogel posted on social media after reaching the summit.
She spent three years training for the Mt. Everest climb by scaling other tall peaks; completing high-altitude, long-distance runs; and working and sleeping in oxygen-limiting quarters to simulate conditions on the mountain. She also maintained a meticulous diet and grueling exercise regimen to keep her body in tip-top shape.
Effectively, Vogel used her own body to scientifically test the effects of a rapid ascent. "You could say that this is as much about science as it is personal fulfillment," said Vogel, who works as a nutrition and performance research manager at GU Energy Labs in Berkeley, California. GU Energy created special nutrition and energy products specifically for her climb, and she began documenting every morsel of food she has consumed since December 2018.
Vogel now has reached the summits of the tallest mountains on six continents. She plans to climb the highest peaks on a seventh continent, Antarctica, later in 2019.
Media Contact
Matt Flores
Assistant Vice President, University Communications
940-898-3456
mattflores@twu.edu
Page last updated 5:06 PM, April 6, 2022