TWU fashion students create clothing for homeless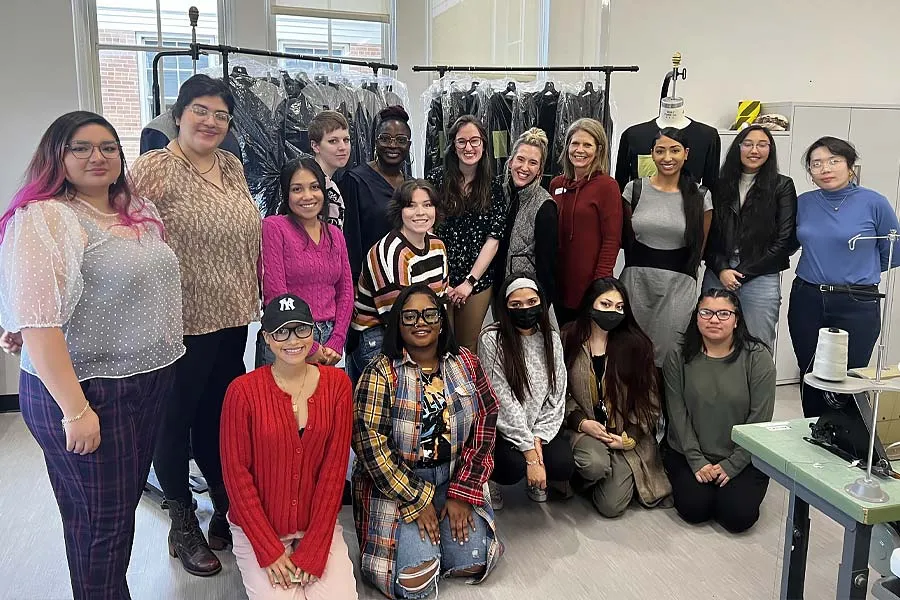 Students from TWU's Mass Production Techniques class designed and made clothing for homeless men.
Dec. 5, 2022 – DENTON – Thinking about fashion designers conjures visions of glamorous clothes, spectacular fabrics and stunning models.
That's not what this fashion story is about.
This is about concepts most people rarely ascribe to fashion, like practicality, logic, efficiency, communication and cost effectiveness. It's about clothes that will never see a fashion-week runway but will make a difference in lives. And it's about a theme that permeates Texas Woman's University: contributing to community.
Fashion Design and Merchandising lecturer Remy Odukomaiya and the students in her Mass Production Techniques class managed to encapsulate all of that in one project. Her students designed, patterned and crafted two outfits, then produced 13 sets of those clothes for the specific needs of a clientele that fashion rarely considers: homeless men.
The clothing was donated to Twice As Nice of Denton in conjunction with the Woman To Woman Pregnancy Resource Center, and will in turn be provided to men who are homeless or in extreme circumstances.
"We took a project from ideation to pattern making to the construction of the garment," Odukomaiya said. "For this particular assignment, we said, 'Let's see if we can apply some kind of community involvement into it.' The students decided to think about homeless men, because most time focus is put on women and children. They came up with the idea to make garments. We had two groups, and each group produced a garment."
Why design clothes for homeless men?
"Not many people donate things specifically for men," said Woman To Woman's Jocelyn Horeftis. "Usually it ends up being the women or the children. So it's really exciting to see a different demographic represented."
"We wanted to create something to keep them warm and make them feel that they're important, they still matter," Odukomaiya said.
The designs addressed the particular needs of homeless men.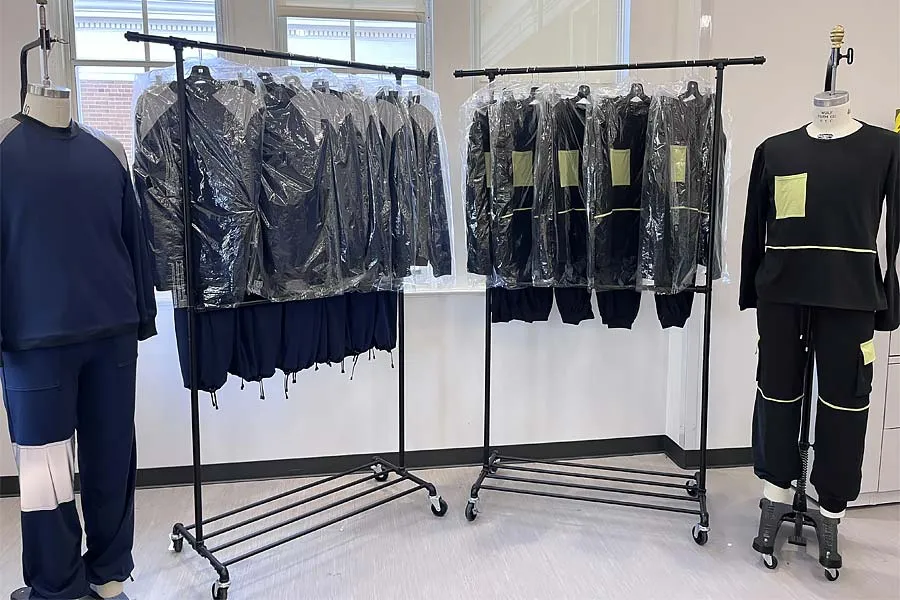 Clothing made by TWU's Mass Production Techniques students for homeless men
"It should be comfortable to wear, so the students decided to go with knit," Odukomaiya said. "It should be presentable if they needed to go look for a job. It should have enough pockets to put their belongings. That way they're not carrying so much in their hands. Cuff sleeves at the end to keep them warm during the winter. Tighter cuffs on the ankles as well, to protect them from cold. Because we do not have specific measurements for these gentlemen, they decided to put elasticized waist lines and draw strings so it's adjustable."
One of the designs has patches on the shoulders made of reflective fabric.
"So if they're walking at night they're safe," Odukomaiya said.
The project also addressed the educational purpose of the Mass Production Techniques class: to teach budding designers to take into account the business requirements of fashion design. Are the designs practical? Can the clothes be economically produced and sold at a reasonable yet profitable price? Can patterns be created that production personnel can translate into finished product?
"If you own a business, you might not be the one producing your own garments," Odukomaiya said. "You might have to send it to South Africa, to China, Singapore or California, and you're not there in person. So are your patterns done correctly? Are you communicating what needs to be done the way you want it to be done correctly?
"The students present their patterns to a second group who looks at them and try to figure them out. When that first prototype comes back, it's usually a disaster. Then we sit down and then we look at all the things that went wrong and figure out how to fix it."
In this project, each of the students sketched out a design and two were selected. Those designs then underwent editing before patterns were created. Then the students sewed the outfits, using donated fabric.
Thirteen students - Giovanna Garza, Camden Ball, Thy Huynh, Gladys Salvador, Samantha Ceja, Cindy Gonzalez, Maria Hernandez, Destyni Johnson, Julia Nguyen, Sabrina Rodriguez, Karina Salazar, Ninna Zarate and Zander Zimmer - were involved, and the entire process took five to six weeks.
"Mass production requires creativity, but it also requires logic," Odukomaiya said. "You still want your item to be nice and visually aesthetic, but you want costs to come down. So there's a lot to think about. A lot of students come into the program and think about fashion design as glamorous. But the in-between process is what makes the ending beautiful."
Media Contact
David Pyke
Digital Content Manager
940-898-3325
dpyke@twu.edu
Page last updated 10:33 AM, December 5, 2022