Severe Weather
When can severe weather occur?
Severe weather can occur any time of the year. However, the peak period for severe weather to occur in North Central Texas is from mid-March through June. For southeast Texas, the peak severe weather season coincides with hurricane season (June-November) as tropical systems can spawn severe weather.
What is a Severe Thunderstorm?
A Severe Thunderstorm is a powerful storm that can produce one or more of the following:
Winds of 58 mph or greater
Hail greater than 1" in diameter or the size of a quarter
Frequent cloud to ground lightning
A tornado
If a Severe Thunderstorm is producing a tornado, then the National Weather Service will change the warning from a Severe Thunderstorm Warning to a Tornado Warning.
What is the difference between a Watch and a Warning?
Watch: Conditions are favorable for a severe storm to develop.
Warning: Severe storm is imminent or already occurring and you need to take protective action.
Just remember the following: See a watch, keep your readiness top notch; however, hear a warning take action as a storm is coming.
How will I know if there is severe weather approaching campus?
As an employee or student at the university, you are automatically enrolled in the university's mass notification system called Pioneer Alert. Pioneer Alert can send notifications to your phone by voice and text and can push out notifications through the university's social media outlets (Ex: @PioneerAlert & @TWUNews).
The Office of Emergency Management will also send out emails to alert the campus of a Severe Thunderstorm approaching the campus. If you receive an email from the Office of Emergency Management, please follow their recommendations and take protective measures.
What should I do during a tornado?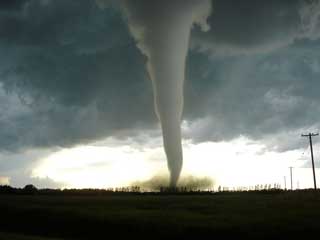 Find a sturdy permanent structure, and go to the lowest level of the structure in an interior room and stay away from windows and glass.
If on campus, go into a building on campus and seek out one of the severe weather areas. To find out where severe weather areas are located for your building, go to the Building Maps page on the TWU Emergency Management website.
What should I do if I am out driving during a tornado?
Do NOT attempt to outrun the tornado. Instead, quickly find the closest sturdy structure and pull off the road to take shelter in the structure. If you are in an area without any structures nearby, pull off the road and find the lowest lying area (Ex: Ditch) and lay flat on your belly and cover the back of your neck with your hands.
What should I do to prepare for a hurricane?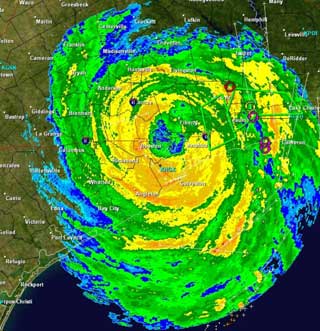 First and foremost it is very important to have a Family Emergency Plan. Start by engaging your family and friends about emergency preparedness and set aside some time to discuss the following with them:
What supplies will we need after an emergency to survive?
Where will we go if our home/neighborhood is destroyed?
Where can we meet up to rally together if we are separated?
How will we communicate with each other and let other family and friends know we are safe?
For more information about developing your own family emergency plan, go to www.ready.gov.
As part of your planning it is important to gather information about evacuation zones and routes. Please check the Houston Evacuation Map [PDF] to determine to which zone your home is located in and which routes are close to you.
Page last updated 5:08 PM, March 25, 2022