Gov. Abbott appoints Rachel Iacobucci as university's new student regent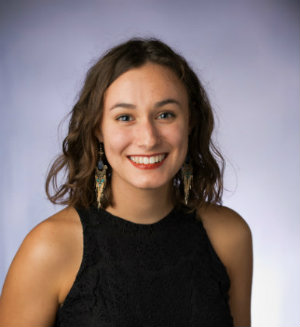 Calling it "an amazing opportunity to speak for other students," Rachel Iacobucci made it her goal her freshman year to become the student regent for Texas Woman's University. This goal became a reality when Gov. Greg Abbott named Iacobucci TWU's student regent April 26.
"As student regent, I hope to advocate for those who do not feel they are heard on campus. I also would love to see the three campuses more united and with a greater presence in the communities, and ultimately, help the TWU community do what it feels is best for its future," said Iacobucci, a 21-year-old communications sciences junior from Highland Village.
Iacobucci currently serves as the president of the TWU Terry Scholar Student Organization, the students selected to receive prestigious full-ride scholarships from the Houston-based Terry Foundation. She also is a member of the university's prestigious Honors Scholar program, a member of the university student newspaper The Lasso's publications board, and co-founder of the TWU Knitting and Crocheting Club. Iacobucci, who plans to be a speech pathologist, has interned at ASPIRE Interventions in Grapevine. She also has volunteered and taken mission trips as part of the Fellowship of Catholic University Students Missionary and volunteers with Denton's Fred Moore Day Nursery.
She chose TWU because the campus felt like home.
"The campus itself is beautiful, but it's the people who make the difference. TWU has such a welcoming and kind community that makes it easy to call home," Iacobucci said. "I love the opportunity that TWU provides for its students, and the support and encouragement from the faculty, staff and the students."
She adds, "I am so excited and grateful for this blessing of an opportunity to be the student regent, and I look forward to this coming year."
Iacobucci will attend her first TWU Board of Regents meeting as regent in June in Dallas. She is replacing former TWU student regent Monica Mathis of Sherman.
In 2005, then-Gov. Rick Perry signed legislation mandating that each public university board of regents include one student member. Student regents have the same powers and duties as the other members of the board, with the exceptions of voting and being counted to determine a quorum.
Media Contact
Staff Reporter
940-898-3456
Page last updated 4:14 PM, September 26, 2018