TWU nutrition faculty member awarded for service to professional organization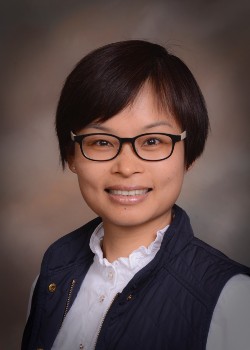 TWU Assistant Professor Xiaofen Du, PhD, in the Department of Nutrition and Food Sciences, received the 2020 Outstanding Service Award from the Fruit & Vegetable Products Division of the Institute of Food Technologists (IFT) in recognition of her service and contributions during 2019-2020.
Du has served the Fruit & Vegetable Products Division of the IFT since 2018, as a member at large (2018-2019), chair-elect (2019-2020) and chair (2020-2021). She actively led division activities and organized scientific sessions during IFT annual meetings.
"Serving the IFT has been a great opportunity to grow my professional life, and my involvement is a good advertisement for TWU as well as the flavor chemistry program," said Du.
"We knew Dr. Du was an outstanding hire, but this award is a reflection of the value she brings to TWU in her research and the expertise she provides to her profession," said Shane Broughton, PhD, professor and chair of the department.
Media Contact
Ray Willhoft
Director of Communications, Jane Nelson Institute for Women's Leadership
940-898-4584
rwillhoft@twu.edu
Page last updated 4:23 PM, September 23, 2020