TWU kinesiology graduate committed to life of service for others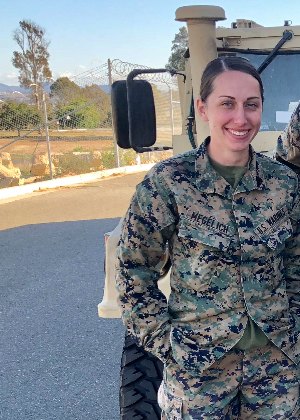 December 6, 2021 – DENTON – The role of a soldier and a physical therapist is to serve others, and Texas Woman's December 2021 kinesiology graduate Alexandra Pritchett is an outstanding example of how to do both well.
Born in Boca Raton, Florida, Pritchett grew up in McKinney, Texas. She served in the United States Marine Corps from 2014 – 2019 as a signals intelligence operator and analyst. While serving, she became the first woman from her unit to hold the billet of team leader and lead a team forward deployed.
"What I enjoyed most from my experience is the life-long friends I made, traveling the world and, most importantly, who I became," she said.
Pritchett had a dream of pursuing physical therapy as a career while in high school, but she decided to enlist first. During her time in service, many factors pushed her to make that dream a reality. She sustained a hip injury during the last year of her enlistment and went through multiple months of physical therapy before and after her surgery to help her recover.
"I was able to see firsthand how the military can improve upon their injury prevention and recovery programs," she said. "Though my time on active duty has ended, my goal is to return to that community and try to improve it as much as I can to prevent others from going through the pain that I did. Since getting out and while pursuing my degree, I have received a second hip reconstruction surgery. This additional time spent with physical therapists and surgeons cemented my desire to complete my degree and pursue PT as a career of my own."
Pritchett decided to attend TWU due to its proximity to her family and the BS in Kinesiology with a Pre-Physical Therapy track, which proved to be the right fit.
"I enjoyed the small class sizes and the veteran camaraderie and veteran support from the staff on campus," she said.
Pritchett contributed to that support as well by serving as president of the TWU Student Veterans Association (SVA) from 2019 – 2021, where she created an important space for veterans to come together.
"Transitioning out of the military is a harder task than I think we initially imagine, and I think it is useful to have a space for us all to be together and help one another," she said. "I am most proud of two things that I accomplished. Firstly, keeping the 9-11 Never Forget Project going. I believe that it is important to never forget the attacks that occurred on 9-11. The attacks spurred many of the veterans currently attending to enlist. It was an honor to keep the tradition of honoring the lives lost in the attacks. Secondly, I am proud to have implemented a Veterans Day Virtual 5K last year. This raised awareness of our organization, brought people together in a difficult time and provided our organization with funds to keep afloat."
Pritchett also worked with TWU Chancellor Carine Feyten on a video for Denton County's Virtual Veterans Day.
Her post-graduation plans include continuing to pursue her physical therapy career. She has been accepted into the Doctor of Physical Therapy (DPT) Program in North Carolina, where she can continue her education and be with her husband, who is still on active duty in the Marine Corps.
But the lasting impact she has had on her fellow veterans at TWU and the future impact she will have on her patients no doubt will be felt for many years to come.
Media Contact
Ray Willhoft
Director of Communications, Jane Nelson Institute for Women's Leadership
940-898-4584
rwillhoft@twu.edu
Page last updated 1:47 PM, December 6, 2021