TWU alumna, faculty member uses teaching, research to inspire students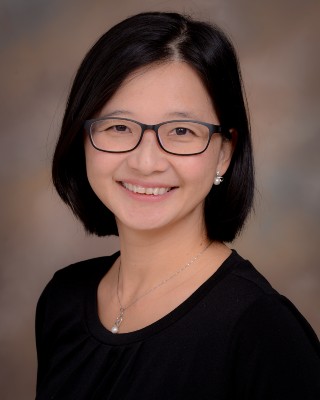 October 13, 2021 – DALLAS – At Texas Woman's School of Physical Therapy, teaching and research go hand in hand, as alumna and Assistant Professor Hui-Ting Goh, PhD, has discovered by merging her two passions, benefitting her students and stroke patients in the process.
Born and raised in Malaysia, Goh was inspired to pursue physical therapy when she saw a newspaper picture of a physical therapist treating a child with Down syndrome.
"That was one of the happiest pictures I had seen," she said. "The most enjoyable moments of this profession are the smiles on the people we serve."
Goh worked as a full-time clinician in Taiwan, where she received her entry-level physical therapy degree. She decided to continue her education at TWU and earn her MS in Physical Therapy after moving to the United States with her husband, who was attending a PhD program at UT Southwestern.
"I considered myself lucky as the flexibility of the program and the caring nature of the faculty provided me a lot of opportunities that eventually led me to research," she said.
Goh also discovered a love of teaching while earning her PhD at the University of Southern California, which was a welcomed surprise.
"When I pursued my PhD degree, I knew that I needed to teach as an academic, so it was kind of a packaged deal," she said. "But to my surprise, I really enjoyed teaching. I think the best moments are not when my students do well on their exams or they like my teaching content, but when they tell me that they learn from me and thank me for inspiring them to pursue research."
Fortunately, Goh is able to do both at TWU, where she teaches at the TWU T. Boone Pickens Institute of Health Sciences - Dallas Center and performs research with the Stroke Center – Dallas.
Her research focuses on understanding the underlying mechanisms of stroke deficits and stroke recovery. Currently, she and her research team are studying post-stroke fatigue, a debilitating complication affecting many stroke survivors. She also is about to complete a pilot study to identify a potential neural mechanism related to post-stroke fatigue. Her next step is to develop a novel intervention, non-invasive brain stimulation, to manage it.
Goh remains thankful to TWU for the opportunities and encouragement to perform research.
"The School of Physical Therapy provides a lot of freedom and resources that allow me to pursue the questions that intrigue me, even though sometimes they are not immediately available for clinical application," she said. "Also, the Office of Research and Sponsored Programs is incredible with their administrative support, internal funding opportunities and training opportunities. Being in the same building as the Stroke Center-Dallas and in the Medical District provides plenty of resources to conduct my research as well, and I am very thankful."
Goh also involves her students in her research as much as possible, knowing how vital it is for them to receive hands-on experience.
"Almost all of the students working on our projects presented their projects at national conferences, and some co-authored the publications generated from these projects," she said. "I am very proud of them and hope they carry on the passion for research that I have myself."
No doubt many of them will thanks to Goh's guidance and stellar example.
Media Contact
Ray Willhoft
Director of Communications, Jane Nelson Institute for Women's Leadership
940-898-4584
rwillhoft@twu.edu
Page last updated 9:06 AM, October 13, 2021