Space Design team wins NASA-sponsored challenge for fourth time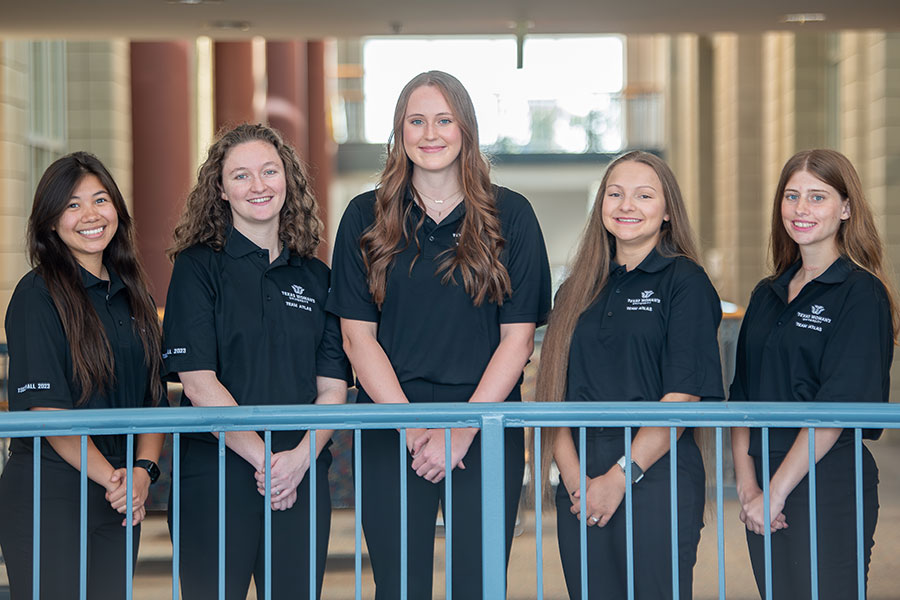 Nov. 14, 2023 – DENTON –Texas Woman's University undergraduate kinesiology students focused on what they knew best — the scientific study of human body movement — and took the top overall prize at a NASA-sponsored design competition, marking the fourth time a TWU team won first-place honors in the statewide challenge.
During the fall semester, the all-female team designed, built and tested an exercise device for astronauts to be used during long duration space flight to prevent lower-body muscle atrophy.
The TWU team, dubbed Team Atlas, was the only kinesiology department represented at the two-day Texas Space Grant Consortium Design Challenge held outside of Houston. The majority of the 18 college teams in the competition, which wrapped up Monday, were made up of engineering students.
The TWU seniors also took first in peer review, second in poster category and oral presentation and third in best model. Team members Catherine Faubel (team lead), Daniela Venegas Polley, Hope Kennedy, Madison Hennessy and Emma Becker received scholarships from TSGC for their project.
"The fact that we placed first overall in the best peer review subcategory is a big deal," said Rhett Rigby, a Texas Woman's associate professor in kinesiology and the design team's faculty advisor. "This tells us that we earned the respect of engineering students from other universities, and we continue to have a seat at the table as a non-traditional team in the Design Challenge."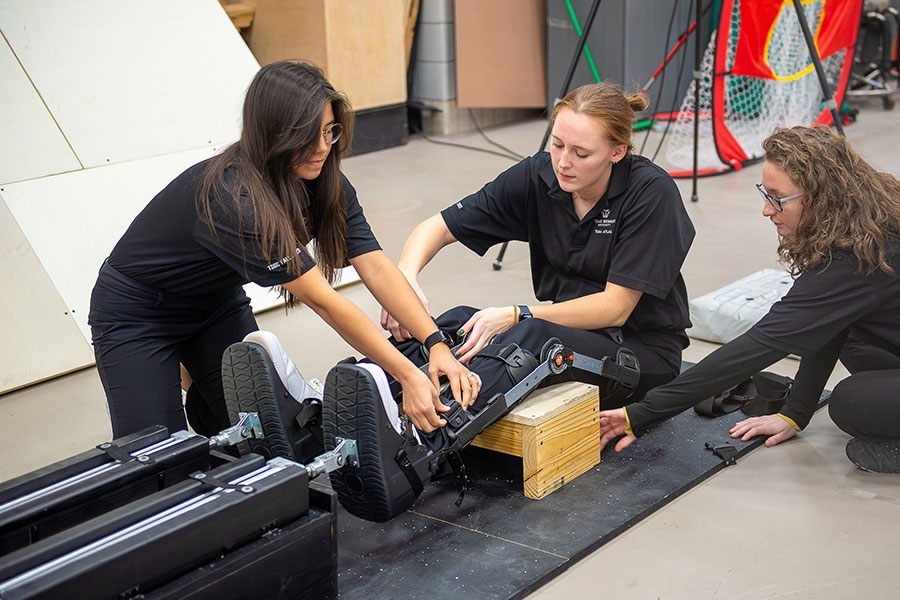 The first-place finish continues the string of success for the School of Health Promotion and Kinesiology's internship team. Over the last 11 semesters that Texas Woman's teams have entered the competition, they have placed in the top four, eight times. This is the fourth all-female team.
The TSGC Design Challenge gives students an opportunity to come up with a solution to help solve a research objective of importance to NASA. The TWU team honed in on the muscle deterioration that occurs in astronauts, especially in the lower body, in microgravity.
To address this lower limb atrophy, the TWU team built a working prototype for both resistance and aerobic exercise that targeted lower-body muscles, such as the quadriceps and hamstrings. Astronauts could use the Stationary Lower Body Movement System during workouts and daily activities to keep their legs healthy during deep space missions.
"This project was unique because it was our first design to allow for exercise countermeasure programming in microgravity, and it was a 100% mechanical device with no integrated electronics," Rigby said.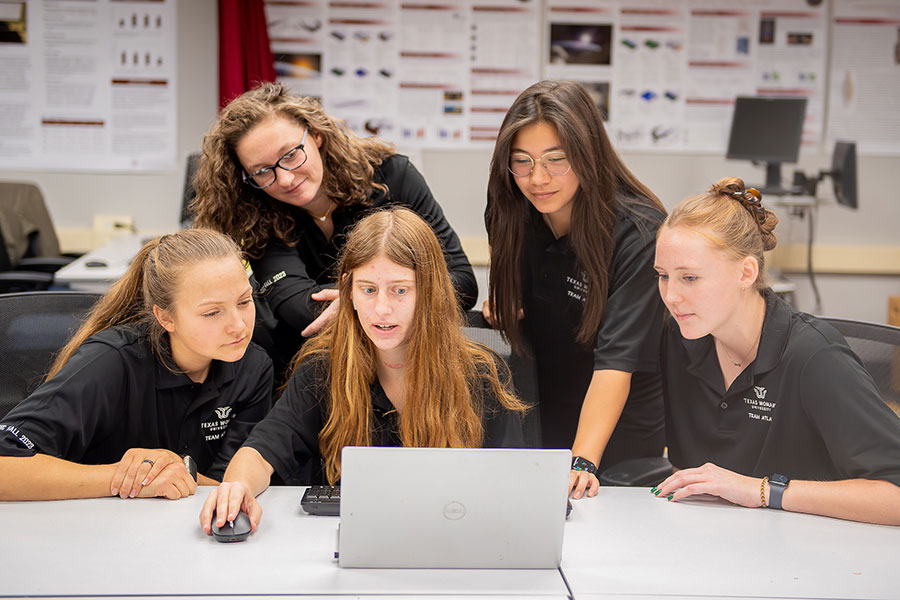 Envision a stepper machine at a gym but one that could be used in space. With the device attached to an interior layer of the spacecraft, an astronaut would strap their feet into foot boots that are attached to leg braces. The foot boots are screwed into rods that are connected to pneumatic cylinders that generate resistance during leg movement. The device relies on the user to create force by extending and retracting the pistols and rods of the cylinders.
What makes the device different is its use of bi-directional resistance. This type of resistance allows the user to exercise in a forward and reverse movement. When the user presses down with their feet, they face resistance up to 200 pounds on each leg. When they pull back, they are also receiving pressure of resistance. Resistance exercises, those that cause one to work against a force, have been shown to reduce muscle atrophy in the presence of microgravity.
"This team's dedication to designing, fabricating and testing the best possible product in a three-month time period was so impressive," Rigby said. "Some team members have put more than 500 hours each into this project, and it shows. To invest that much time makes winning all the more significant and meaningful."
Page last updated 2:32 PM, November 14, 2023