TWU design team wins NASA challenge – again!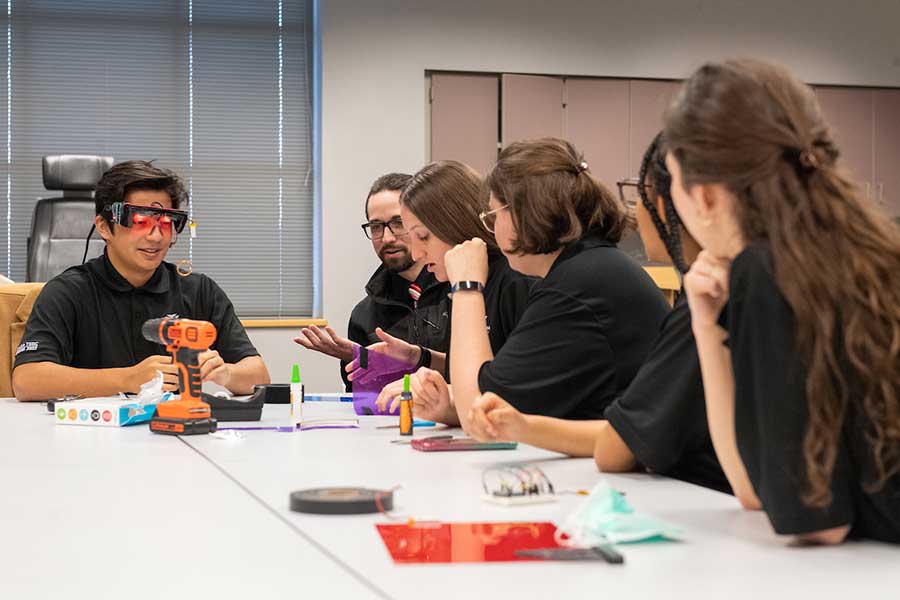 April 22, 2022 — DENTON — What's better than a heavy underdog winning an innovative design contest involving some of the state's brightest minds?
Winning it again.
For the second consecutive semester, a team of Texas Woman's University kinesiology seniors took the top prize – and two of four other awards – in the Texas Space Grant Consortium Design Challenge Showcase this week at NASA's Johnson Space Center near Houston. It marked the third time in five years a Texas Woman's team – typically made up of kinesiology students – took the top prize in a crowded field of university teams consisting overwhelmingly of engineering students.
The five-member team, dubbed the Oneiroi, a nod to the dream gods in Greek mythology, won best overall team, best poster and best oral presentation for enhancements it created on a visor-shaped, blue light-emitting device that helps recalibrate sleep cycles in astronauts. Sleeplessness is a common problem for astronauts following space travel because of the many times they encounter sunrises in a 24-hour period.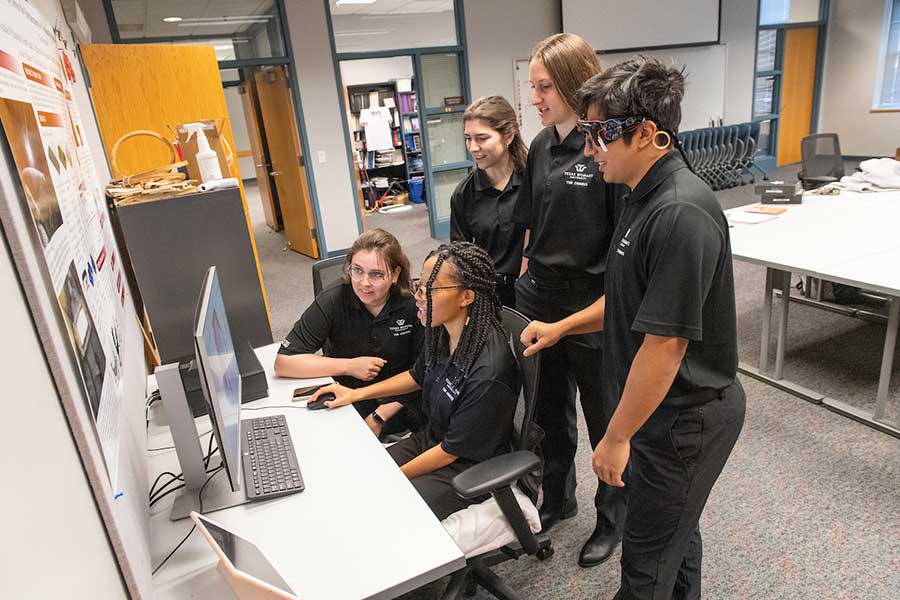 Last fall, the team's predecessor, also called the Oneiroi, took four of the five awards in the NASA-sponsored competition, including best overall team, after devising the light-emitting prototype. It was the first time an all-female team won the best overall team title, beating out 16 other Texas teams.
For this spring's competition, the team enhanced the device by adding a red therapeutic light to the device which helps astronauts experience a higher-quality sleep. The new device fits comfortably over the eyes and allows the wearer to perform daily tasks without discomfort while on the International Space Station. Additionally, the device is rechargeable and requires less power than existing light systems on board the space station.
"This year's team rebuilt the model created by the team last semester," said Rhett Rigby, a Texas Woman's associate professor in kinesiology and the design team's faculty advisor. "This semester, the goal was to address sleep onset. They added red lights inside of the glasses with the goal of improving an astronaut's sleep quality. They also created a lens that goes over the front of the glasses to block blue light."
This semester's team consists of Keely Chapman, Avery Foreman, Mercy Obanigba, Brittany Rust (team lead), and Eduardo Urias. The team logged hundreds of hours of research and testing to not only improve the operation of the device, but also make history of its own. "The moments leading up to the announcement of the winners was tense and exciting," said team lead Brittany Rust. "No matter what, I knew my team was incredibly hard-working and smart. I was so proud to have contributed to this and honored that we could participate in such a unique internship."
Media Contact
Matt Flores
Assistant Vice President, University Communications
940-898-3456
mattflores@twu.edu
Page last updated 4:50 PM, October 11, 2022