SLP graduate demonstrates unwavering determination to pursue new career path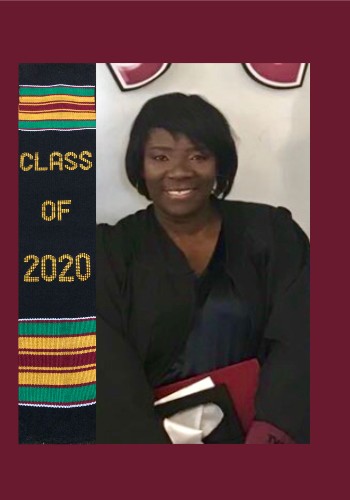 Prayers, perseverance and sheer determination are what Texas Woman's speech-language pathology master's program graduate Dorothy Nyarko Henking credits for sustaining her through her life's journey. Now ready to embark on a new career path, she is eager to face the future thanks to the support of her family and her experience at TWU.
Originally from Ghana, and currently living in Grand Prairie, Texas, Henking's first career calling was as a respiratory therapist, which she has been for 15 years.
"I was inspired by my best friend's twin boys who required respiratory services as infants," she said.
Henking's husband also is a healthcare professional, and having both of them working on the front lines during the coronavirus pandemic has added concern for their entire family. But Henking hasn't let that stop her from doing what she can to help others.
"Working during this virus outbreak has been stressful, but taking the necessary precautions before, during and after interactions with any patient is key," she said.
A New Calling
Henking has continuously demonstrated her commitment to the care of others through her respiratory work, but she decided to switch fields and pursue speech-language pathology at TWU. She believes her new field will allow her to have an even greater impact on the lives of others.
"At the age of 19, I lost my mother after she suffered a stroke," she said. "She was aphasic, and it was an extremely difficult time for my family and me. In addition, working side by side with speech-language pathologists and experiencing firsthand the impact they have on their patients strengthened my resolve to make a career change. I am empathetic by nature, so my innate desire to always help the sick has kept me on this beaten path."
Though that path was not always easy for Henking. She worked hard at keeping a balance while juggling school, family and work, and her commute to class and back home for three to four days each week for four years was more than an hour each way. Fortunately, she had the love and support of others to keep her motivated.
"I persevered due in part to a strong support system, especially my husband of 25 years, my three beautiful children, extended family, friends, colleagues, church members, supervisors, co-workers, my professors and my awesome graduate school cohort," she said. "I thank God for His Divine grace in my life, and I am forever grateful to everyone who helped me accomplish this goal."
Henking also credits TWU's promotion of inclusiveness, excellence and diversity at its core for opening doors for non-traditional students like her.
"The program welcomed me with open arms, and I felt like I belonged," she said. "The supportive and knowledgeable faculty and staff in the communication sciences department echoed the sentiment that failure was not an option for me. My life is forever changed for the better due to my experiences at TWU. I have formed some great alliances and learned valuable lessons personally and academically."
Now that she has earned her SLP degree, Henking hopes to continue working with adults in a medical setting, preferably rehabilitation facilities. She also plans to be of service to others through mentorship and encourages those who might be thinking of a career change or going back to school to just try.
"To anyone, young and old alike, who is considering changing careers, I will say to set a goal and stick to it," she said. "Be intentional, do not be afraid and begin with the end in mind. There will be obstacles and detours, but you have to press on."
Media Contact
Ray Willhoft
Director of Communications, Jane Nelson Institute for Women's Leadership
940-898-4584
rwillhoft@twu.edu
Page last updated 11:47 AM, May 12, 2020