Prepared for success: TWU alumna is ready to tackle her career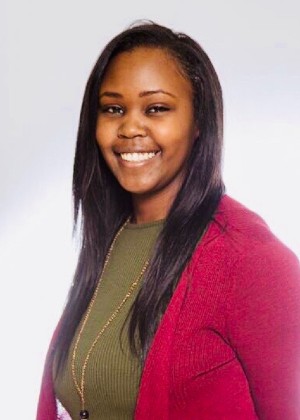 Texas Woman's prides itself with providing outstanding academic instruction, but as alumna Fiona Kiprop (BS '19) discovered, the university also prepares students for successful careers. In her new position as regulatory health program coordinator with the Food and Drug Administration, Kiprop is taking everything she gained from her TWU experience and applying it to her future.
Kiprop, from Grand Prairie, Texas, was always passionate about health interventions and sought a degree that would allow her to make an impact on the health disparities of vulnerable populations.
"I loved the prospect of being able to create and implement a public health program and later shift said program into meeting the continuing needs of the priority population of focus," she said.
Kiprop found exactly what she needed when she transferred to TWU as a non-traditional student to pursue her BS in Health Studies from the School of Health Promotion and Kinesiology.
"I selected health studies as my major of study because I knew it would provide me with a pathway to learn more about public health," she said. "My prognosis was correct; my academic background quickly proved to be both relevant and critical for my transition into the workplace. The concepts learned throughout my education paired with the experience I've gained thus far in my career have only further affirmed my passion for the field of health studies/public health combined."
Kiprop credits the many services TWU offers students with helping her personally, academically and professionally.
"As a transfer student, the Campus Alliance for Resource Education (CARE) was particularly helpful as it allowed me to assimilate into the university academically and holistically," she said. "Also, the health studies faculty was fantastic in every way possible, demonstrating their investment in my academic development, and my academic advisor did an excellent job of outlining my course plan which helped me to graduate on time. The byproduct of those investments planted and watered the seeds of confidence, which is my greatest gift aside from my degree. TWU embodies its title of being a 'Campus with a Heart' in every way."
Kiprop also took advantage of several student organizations, including the Student Association of Social Workers, Pinky Promise and Curatio Club. She attended a particularly impactful meeting held by the Career Connections Center which led to her discovery of the Hispanic National Internship Program (HNIP). She applied through HNIP and was selected for an internship at the Substance Abuse and Mental Health Services Administration (SAMHSA). She continued with the agency as an intern in the semester following her graduation in fall 2019, where she also served as a class speaker.
Kiprop is now tackling her new role at the Food and Drug Administration within the Center for Tobacco Products in Beltsville, Maryland, where she reviews premarket tobacco product applications prior to their dissemination into the market. She also reviews scientific submissions, prepares draft letters and serves as a liaison for the center in various ways. The center also oversees the Family Smoking and Prevention Act (2009), and she looks forward to advancing its mission through her contributions in the coming years. In addition, she hopes to earn a Master of Public Health (MPH) degree.
But even as her career aspirations climb, Kiprop will never forget the ways TWU has set her upon a path for success.
"TWU prepared me for my career by providing resources for professional development and challenging me to think outside of the box concerning what I thought would be possible for my career through conversational exposure," she said. "The community I gained at TWU was pivotal for my growth, and I earnestly look forward to positively impacting others as I advance within my career."
Media Contact
Ray Willhoft
Director of Communications, Jane Nelson Institute for Women's Leadership
940-898-4584
rwillhoft@twu.edu
Page last updated 8:42 AM, November 2, 2020