Pageant title spurs OTD student to pursue greater role in supporting homeless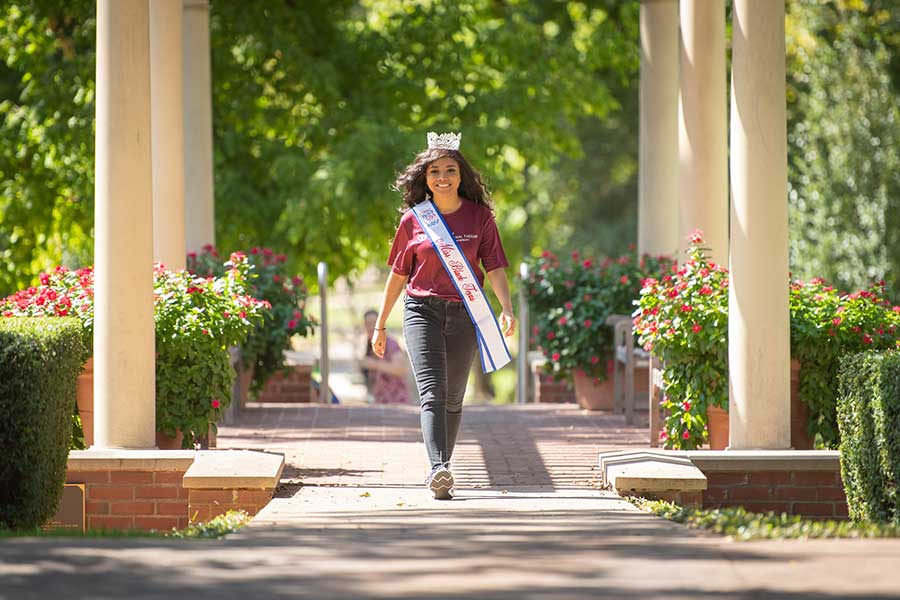 September 29, 2022 — DENTON — Aryana Bosh is small but mighty. The 5'2" Texas Woman's occupational therapy doctoral student has big plans, big ideas and a lot to say.
The first-year OTD student was in disbelief when she read the email on Aug. 29, naming her the next Miss Black Texas. She reread it five times. She called her mom. She cried.
"It means something," Bosh said. "It is bigger than the crown and the sash."
The Jacksonville, Texas, native is hoping to use her platform over the next year to help others. Her main focus is on people who lack housing and deal with food insecurity. Bosh also wants to assist those seeking a career path in occupational therapy. She is planning to get in front of as many organizations as possible over the next year, especially those geared toward young Black women.
Bosh was crowned Miss Black Texas, figuratively speaking. The Miss Black Texas pageant was moved from an in-person event in Dallas to a virtual competition due to COVID-19 precautions. As a state titleholder, she will compete for the national title of Miss Black USA in August 2023 in Washington, D.C.
While scrolling on social media in 2021, Bosh saw an advertisement for the Miss Black USA pageant. Her interest piqued, she began doing some research and found out that the Miss Black USA Organization is the first and largest scholarship pageant for women of color in the country, and she said she was drawn by the success stories of former title holders.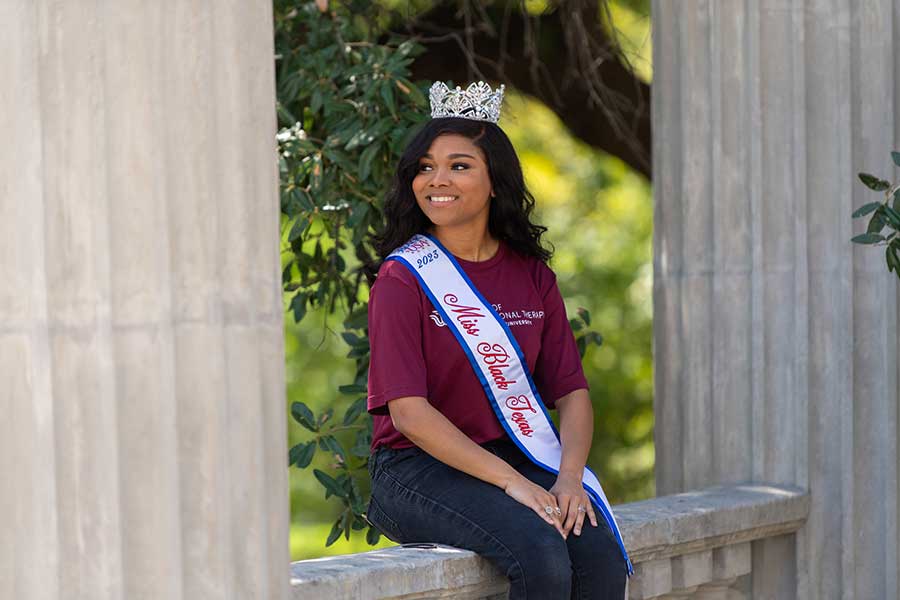 Bosh was one of 10 finalists to advance to the virtual competition in August, which consisted of an interview with a panel of judges. She said she was shaking in front of her laptop before her interview, but believes it was her authenticity that swayed the judges.
"I really let them know that they were putting this small-town girl on the map," Bosh said. "This is something way out of my comfort zone. I want to make change. I want to go in the community and do what I can do. I know I can't do it alone, of course. It starts with one person."
While attending school, Bosh is filling her calendar with speaking engagements and appearances. She will wear a formal gown for the first time when she rides in one of the nightly State Fair of Texas parade events. She has plans to speak to UNT's pre-occupational therapy club, an organization she was a part of during her undergraduate years at the University of North Texas.
It wasn't always easy for Bosh to speak in front of large groups. Growing up in a rural, East Texas town of about 14,000 souls, Bosh said she was demonstrably timid. When she arrived in the much larger Denton to go to school at UNT, she told herself she was tired of being shy.
"I just made myself get outside my comfort zone," Bosh said. "Being comfortable is cool, but when you are comfortable and stagnant, nothing really happens."
Occupational therapy has always been the goal for Bosh. Her role model is her mother, who taught students with learning disabilities. After graduating with an undergraduate degree in rehabilitation studies, Bosh spent a year working at two clinics helping children with autism. She was thrilled to be able to stay in Denton and attend TWU.
"It really was the culture of the campus," Bosh said about her decision to go to TWU. "It was the beauty of the campus, the diversity of the campus. I also saw that the OT program was ranked No. 17 (nationally). That's a big deal. I really wanted to go to TWU."
Over the next year, Bosh would like to get involved around campus and the surrounding area with food and donation drives and hopefully speak with city and state leaders about her plans.
"I just think there is more that needs to be done," Bosh said. "No human should be in a position where they don't know where their next meal is coming from or if they can keep a roof over their head. It's not right."
Page last updated 8:54 AM, January 13, 2023