Occupational therapist's ties to TWU keep strengthening over decades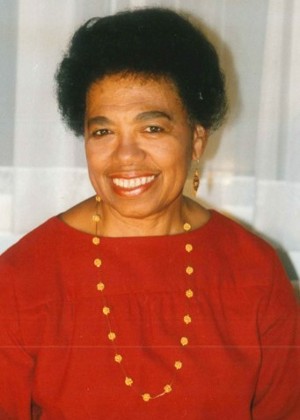 March 10, 2023 — DENTON — When Lela Llorens, PhD, OTR, thinks of Texas Woman's University, the words gratitude and trust comes to mind.
Llorens has had an impactful relationship with the university going back to the 1950s and has been connected to the university as a lecturer, panelist, keynote speaker and consultant.
Her ties to Texas Woman's became even more permanent with the Blagg-Huey Library now serving as the archival depository for her professional papers and personal artifacts. It was Llorens' relationships with her TWU counterparts that were the impetus for her lasting connection to the university.
In February 2023, Llorens reconnected with Texas Woman's as the keynote speaker at the 30th annual Vanderkooi Endowed Lectureship event, hosted by the School of Occupational Therapy. Llorens spoke, virtually, from her home in California, about mentorship, friendship and leadership. The online event was viewed by 200 OT students, faculty and professionals.
"The journey with my TWU colleague and friends has been one of learning and sharing, mentorship, friendship and leadership," Llorens said in her speech.
In her remarks, Llorens discussed how mentors, friends and leaders can play vital roles in one's professional life by weaving in stories from her 70-year career in OT. Llorens spoke how friendship is an important part of growing personally and maintaining professional standards.
Trust was the backbone of her friendships with Ruth Whipple Pershing, Virginia Chandler and Grace Gilkeson. The three women themselves had ties to TWU, and accepted Llorens as a friend and colleague during a time when Llorens sometimes was the only Black student in a classroom or on a university committee.
"They were warm and welcoming and the relationships lasted over many years," Llorens said. "Those are the kinds of friendships that are true friendships. Even though you don't see that person for a length of time, when you do see that person, it's as if no time has eclipsed."
Her relationship with Texas Woman's began in the 1950s when Pershing, her former classmate from Western Michigan University, was dean of the School of OT. In Lloren's speech, she talked about how Pershing opened doors at TWU for Black OT students at a time when Texas laws would not permit Blacks to be placed in internships. Pershing reached out to people she trusted, such as Llorens, to help her find internships for her students in other states.
"The fact that Black people and Whites could be friends was one of the things that really cemented all of the relationships that we were trying to have within our profession – even though the world around us was not behaving in the same way," Llorens said.
When Llorens was doing her own clinical work in Chicago in 1953, she befriended Chandler, who was a Texas Woman's student. Chandler later served on the university's board of regents and established the Vanderkooi Lectureship Endowment. Llorens was invited to be the first speaker in 1993.
"Virginia was kind," Llorens said. "It didn't matter to her that I was Black and she was White."
Through professional activities and mutual colleagues, Llorens met Gilkeson, who served as dean of the School of OT from 1983-94. Llorens wrote the foreword for Gilkeson's book and collaborated with her on the development of the OT PhD program at Texas Woman's.
From 1984 through the late 1990s, Llorens made multiple trips to the Denton and Houston campuses. She was honored as a distinguished lecturer in 1984 and was a visiting scholar in 1991.
"Visiting the TWU Denton campus always meant having a warm, wonderful visit with Grace and her husband, George," Llorens recalled in her speech. "They always treated me with grace and love."
Following Lloren's speech at the university, a panel made up of OT professionals responded to her remarks. One of the panelists, Glen Gillen, PhD, asked Llorens about mentoring friends.
"I think sometimes we are taught to keep an arm's distance from people: our patients, our colleagues, our mentors," Gillen said. "Is it difficult to discuss difficult things with friends?"
Llorens responded that with real friends, you can be totally honest.
"It is sometimes the words you use, and the way you phrase it, and you give it as much thought as you would for anything as important in your life," Llorens said.
Page last updated 9:02 AM, March 10, 2023