Making a play for sports nutrition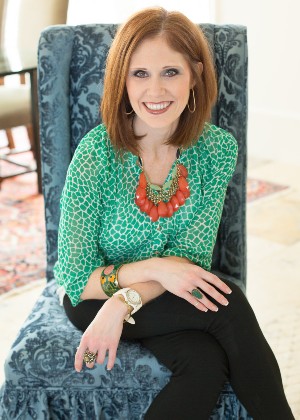 TWU alumna's new book is a resource for young athletes, their parents and coaches.
For the past 14 years, Texas Woman's alumna and adjunct professor Amy Goodson (MS '06) has pursued her passion for overall health, wellness and sports nutrition. In her new book, The Sports Nutrition Playbook, she provides a resource perfect for youth and teen athletes, as well as their parents and coaches, to teach them how to fuel and hydrate their bodies to perform at the highest level.
Originally from Alvin, Texas, Goodson moved to the Dallas-Fort Worth area in 1999 to earn her bachelor's degree in communications and a minor in exercise physiology from Texas Christian University.
"In college, I taught aerobics and was a personal trainer, so I always had a love for exercise and an interest in nutrition," she said.
Goodson decided to further that interest by earning her MS in Exercise and Sports Nutrition from TWU and becoming a registered dietitian and consultant in the DFW area. Her time at TWU also inspired a passion for teaching.
"I started teaching Sports Nutrition as a graduate assistant and became the adjunct instructor for that course in fall 2006 after I graduated," said Goodson, who still teaches the course today.
She also created a two-day graduate seminar course for TWU's exercise and sport nutrition program called Sports Nutrition for Collegiate and Professional Athletes, which is taught over a weekend in January every year.
"I am glad I can offer the opportunity for students to learn about sports nutrition," she said. "So many of them are interested in the field, and I can provide them with real-life experiences as examples."
Those real-life experiences come from Goodson's time working for Ben Hogan Sports Medicine, the Dallas Cowboys, the Texas Rangers and their minor league affiliates, Texas Christian University Athletics, FC Dallas Soccer, the NBA G League, Jim McLean Golf School and many PGA Tour players, as well as with middle school, high school and endurance athletes. She also has served as a speaker, media spokesperson with more than 750 media placements in a variety of media outlets locally and nationally and media dietitian for RDTV, where she does food and nutrition TV segments nationwide.
Goodson also added the title of author to her impressive resume, serving as the co-author of Swim, Bike, Run – Eat, a sports nutrition book for triathletes, and as the nutrition contributor to retired NFL player Donald Driver's book, The 3-D Body Revolution.
Her latest book, The Sports Nutrition Playbook, is a play-by-play on sports nutrition for athletes, coaches, trainers and parents. Full of practical, easy-to-use fueling tips and examples, it details nutrition and hydration as it relates to fueling, performance and recovery.
"I have been asked for years to come up with a resource that is easy-to-read, practical, applicable and full of examples," said Goodson. "While the book works for all ages of athletes and exercisers, I put a huge focus on child/youth athletes and included all the components and challenges they face at that age."
Goodson first came up with the book name and idea in 2013 but never had the time to put pen to paper, until the pandemic hit.
"When COVID appeared, I made it my goal that I was not coming out of this quarantine without the book," she said. "So, I went to work and got it done and self-published it."
With this latest project, Goodson is continuing her mission of communicating positive nutrition messages to all audiences.
Media Contact
Ray Willhoft
Director of Communications, Jane Nelson Institute for Women's Leadership
940-898-4584
rwillhoft@twu.edu
Page last updated 4:41 PM, April 6, 2022