Organization president found business footing with advisory board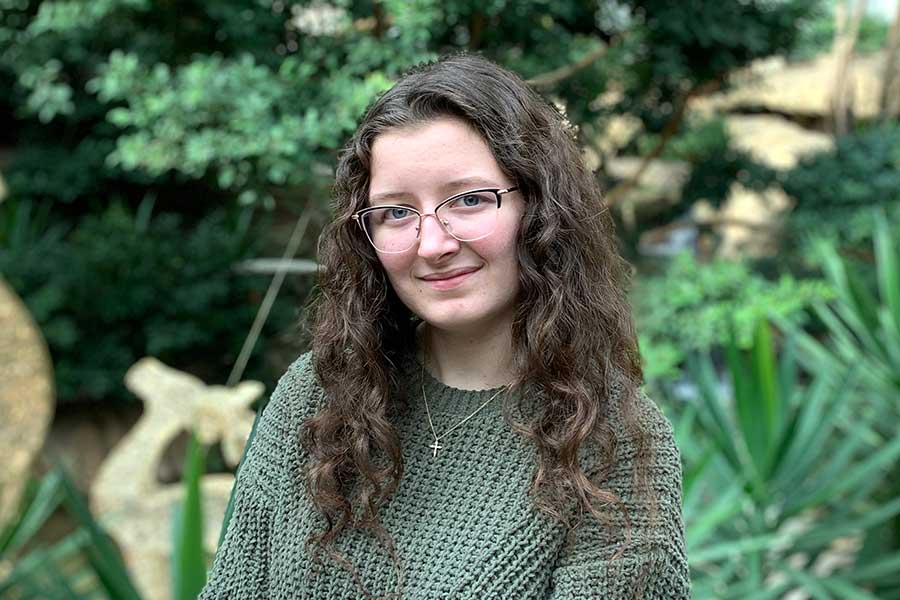 September 26, 2023 - DENTON - When Sarah Gee arrived on the Texas Woman's Denton campus as a first-year student, she really wanted to find a community. After graduating from a small high school, she was looking forward to finding a group of peers that shared her interests and academic goals.
Gee found that with the College of Business Dean's Student Advisory Board (DSAB).
"Finding that community within the COB is something that I have loved," Gee said. "That was like a diamond in the rough for me. I have found people that respect me when I speak, will listen to what I have to say, and are interested in what I am interested in."
Gee, a business management major, learned about the student organization at an event during her freshman year. She was looking for a way to get involved with the College of Business and was excited to find a student group that was focused on putting COB on the map. After serving as a member that first year, Gee was voted president of the student organization for the 2023-24 school year.
"Sarah is always the first person to volunteer and ask questions," Lauryn Johnson, a 2023 COB graduate and former DSAB president, said. "She is the type of leader that finds solutions and incorporates her peers' strengths to get the job done."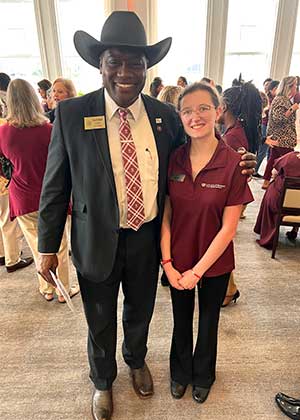 Gee, who is just a sophomore, says that leadership has always come naturally to her. She credits her parents for being pillars of support. She started taking on leadership roles as a senior in high school and has enjoyed learning from the other officers in DSAB.
"I think we are all leader-based with DSAB, and we take charge on different things," Gee said. "We are able to grow and learn from all of our different leadership experiences. Everyone comes from a different place, but we all want to be the best leaders for COB."
The purpose of DSAB is to liaison with the COB student body and provide feedback to COB Dean Rama Yelkur to provide a better educational experience for students. The group is focused on implementing a community within the college. One way is by hosting events throughout the school year.
"Most of the events for the fall will involve interview prep and process, resume writing, how to market yourself," Gee said. "For the spring, we have the annual etiquette dinner and different aspects of networking."
The biggest challenge the group faces is getting people involved, she said.
"It's very challenging trying to find that community," Gee said. "It's hard to rally that together. Some students aren't looking for that. They come to college to get their degree. Some COB students already have a business, a family, a job lined up. That's all amazing, but it also occupies their time away from doing some of the extracurricular activities that COB offers."
Gee and DSAB are trying to overcome this by offering events such as the etiquette dinner that would add to students' experiences.
As president, Gee hopes to grow the COB community. She believes COB has a lot to offer students, especially with the new AACSB accreditation it received earlier in 2023.
Gee's pitch to students is that they can find a sense of belonging within a safe environment with DSAB.
"You can learn how to network with professionals and have the ability to create opportunities like that for others," Gee said. "It's not every day that you have the opportunity to work with the staff that are within the college you're pursuing your degree in."
Page last updated 10:32 AM, September 26, 2023