Mom of 4 works full time and on cusp of second degree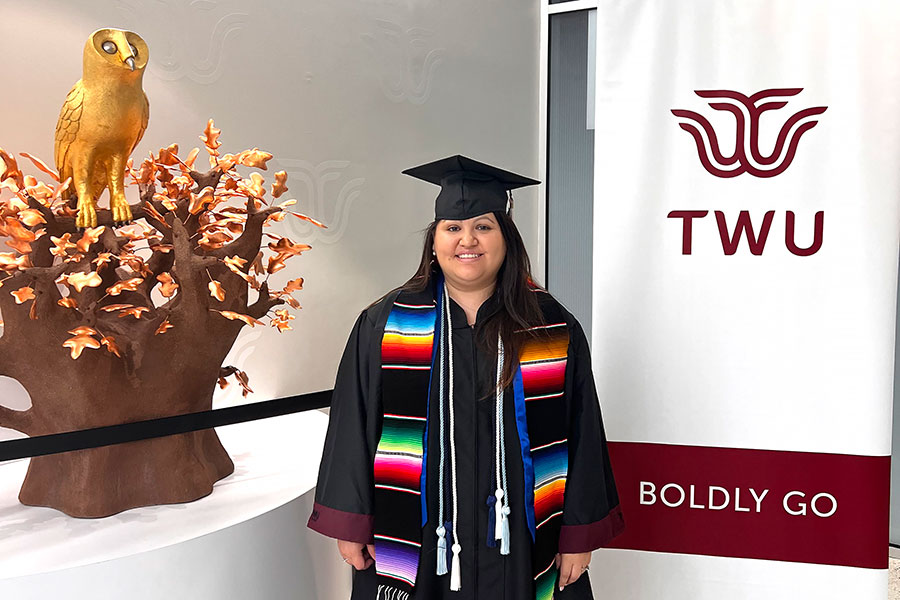 Oct. 5, 2023 – DENTON – One of Patricia Aguirre's class assignments at Texas Woman's was to have a family member describe her in one word. She asked her daughter, who quickly responded.
Overachiever.
Aguirre has put a lot on her plate the last few years to accomplish one of her life goals: to get a college degree. The mother of four returned to college after taking a break to work and raise a family.
While taking classes, she also continued to work a full-time job in human resources. After graduating in May 2023 from TWU's College of Business with a bachelor's degree in human resource management, Aguirre decided to continue her education.
"I decided now or never," Aguirre said. "I need to go all in and focus 100 percent. Going to college was one of my life goals. Once I achieved my goal, I thought about what would help me get to the next step. I've been an HR generalist for four years. What's next? HR director. So, I need a master's, and in five years my goal is to be an HR director."
Aguirre will graduate in May of 2024 from TWU with an MBA that has an emphasis in human resource management. She has not taken her foot off the gas pedal since she arrived on TWU's campus.
"I need to lead by example," Aguirre said. "I want my kids to see that when you want to do things, you can make it happen. I also feel that it's important to do the things that are important to you. For me, it's important to be present in my family's life. My daughter's schooling is super important to me."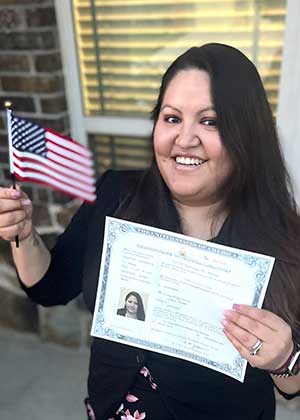 Aguirre serves on her daughter's school PTA board and volunteers for school events. She asked her boss recently for some time off so she could chaperone a school camping trip.
When she is not working or studying, she is volunteering with her family's non-profit. Her husband's grandmother started an organization called Sonja's Forgotten Angels, an organization benefiting the elderly and disabled.
"My husband has become a big part of it, which means I'm a big part of it," Aguirre said. "We've tried to instill it in our kids as well."
Throughout the year, and especially around the holidays, Aguirre and her extended family distribute essential items to residents at nursing homes in the Farmersville area.
At the same time she started working on her degree, Aguirre also began forging a path toward citizenship. In 2022, she became a U.S. citizen.
"It was very exciting and also a little heartbreaking," Aguirre said. "I gave up my citizenship to Mexico because my life is here. My family is here. I grew up here. But I am Mexican at heart."
Her family came to the United States from Mexico when she was 7 years old. Her mother told her that education was going to be the best way to get ahead in life.
Aguirre took that advice to heart. After graduating high school, she received a scholarship from the Frisco Education Foundation, which helped her earn an associate's degree from Collin College. She then put school on hold to focus on work and family.
A few years down the road, she hit a wall professionally. Every time she tried to move up the ladder, she was told she needed a bachelor's degree. She sat down with her husband and told him she had to go back to her original goals in life.
"It took a while but I got right back on that path," Aguirre said.
She chose her bachelor's degree based on her employment history. At every one of her jobs, she always ended up in a leadership position.
"As I moved on from one job to another, I always ended up in the same role: leading people, training people and hiring people," Aguirre said. "I thought that I might as well just make a career out of it."
Aguirre is not finished with her goals. Another life goal is to start her own scholarship program.
"I received a lot of assistance throughout my career and on my path through college," she said, adding: "I want to give back."
Page last updated 11:06 AM, October 6, 2023