Dress for Success Dallas to hold business apparel workshop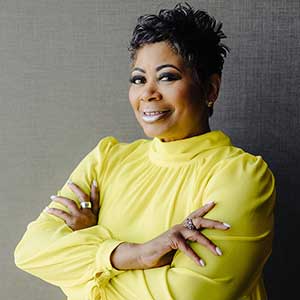 Sept. 27, 2023 ― DENTON ― Remember that awful, pit-in-your-stomach feeling the night before a job interview? Was some of that anxiety over what to wear? Were you torn between business dress and business casual?
Karen "KJ" Johnson has just the advice to quash those fears.
Johnson is the executive director of Dress for Success Dallas, an organization whose mission is to empower women to achieve economic independence by providing a network of support, professional attire and the development tools to help women thrive in work and in life.
And if you're a student at Texas Woman's University, you'll soon get a chance to benefit first hand from her expertise.
Dress for Success Dallas is partnering with TWU's College of Business with a Dress for Success event at 6 p.m. Wednesday, Oct. 4 at the Student Union on the Denton campus. Open to TWU students, Johnson will open the professional development event with a presentation to students about how to take that next step after graduation.
"While the trend toward 'smart casual' attire has gained traction, especially post-COVID, it's essential to remember that first impressions are lasting ones," Johnson said. "Hiring managers are not just evaluating your skills and qualifications, they're assessing your ability to present yourself professionally.
"When we engage with college students, especially Gen Z women, our emphasis is on the transition from academia to the professional world," Johnson added. "We focus on how to leverage their education, skills, and digital fluency to make a strong impression in interviews and on the job."
Johnson said she is excited to speak to this specific audience. While she notes Dress for Success Dallas has a long history of empowering women at various stages of their careers, the event at TWU is a groundbreaking initiative. It will serve as a springboard for a program that Dress for Success Dallas is launching in 2024 with multiple Dallas-Fort Worth universities.
"We're tapping into a demographic that represents 58% of the current college student population across DFW—Gen Z women."
Following the presentation, College of Business students, styled by DFSD, will be showcased in a fashion show.
The Dress for Success event is hosted by the COB Dean's Student Advisory Board. Additional partners include the W. Ray Johnson Foundation and the Jane Nelson Institute for Women's Leadership Center for Student Leadership.
"Dressing up for an interview is less about adhering to old norms and more about demonstrating that you understand the importance of making a strong, positive impression," Johnson said. "In a world where 'smart casual' is becoming the norm, going the extra mile in your attire can set you apart and make you memorable in the eyes of potential employers."
Page last updated 10:02 AM, September 27, 2023