Fashion student designs store for children with disabilities, wins scholarship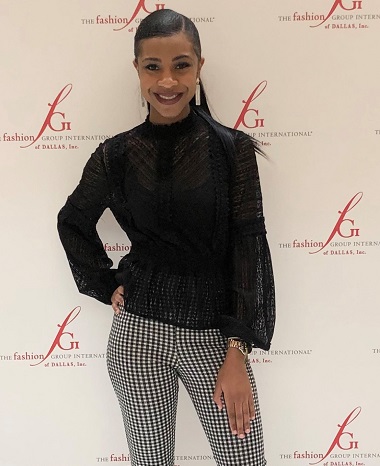 Sept. 9, 2020 — DENTON — Texas Woman's University student Taylor Davis, a double-major in fashion design and fashion merchandising, was awarded first place and a $2,500 scholarship in the digital merchandising store planning category of this year's Fashion Group International (FGI) of Dallas Scholarship Competition.
Davis' winning design concept, "Metrix," imagines an adaptive clothing boutique designed for children with special needs. "At Metrix, we measure the needs of our customers to find them clothing that is non-restrictive, accessible and stylish," she writes in the store's concept description.
Davis was inspired by both the 2020 FGI Dallas competition theme, "the future of fashion," and her personal shopping experiences. "I have a family member who is disabled and has a difficult time finding adaptable clothing for their condition. I felt inspired to create a plan for a store that is inclusive and fashionable for children with disabilities," said Davis. "I wanted to shine a light on an underrepresented market and an area of fashion that has not progressed over the years."
Even preparing her design for competition presented a number of challenges. "There are a lack of resources and photos that are representative of children with disabilities. For example, I wanted to have an image of children's mannequins with disabilities, but I was unable to find anything. I had to settle for standard children's mannequins."
Earlier this year, Davis expressed an interest in entering the competition and worked one-on-one with Associate Professor Anna Magie, Ph.D., to develop her nine-page project over the summer. Requirements for the final presentation included a company logo, store concept description, goals and objectives for the business, target market information as well as renderings and photos of the store layout, lighting, fixtures and merchandise.
As a TWU Minerva Scholar, member of the Center for Women Entrepreneurs and member of the Center for Student Leadership, Davis will graduate with a number of accolades at the end of Fall 2020. She's keeping an open mind when it comes to her career path in the fashion industry, and looks forward to developing her skills in a professional environment.
No matter where she lands, one thing is clear to Davis: "I have always had the desire to cultivate my creativity and a strong passion for entrepreneurship, but fashion merchandising has given me the ability and the drive to change consumer and industry perspectives for the better."
About the 2020 FGI Dallas Scholarship Competition
The FGI Dallas competition typically is held in Dallas at the World Trade Center but was moved online for 2020 due to COVID-19 safety concerns. The event includes categories for university students completing fashion design as well as fashion merchandising projects, and all competitions are judged by a panel of local industry experts. Video of the virtual awards ceremony is available online.
Page last updated 3:52 PM, September 21, 2020