TWU students embrace volunteerism, help local nonprofits
June 4, 2019 — DENTON —The Helping Hands Student Ambassador program at Texas Woman's University, along with 43 other student organizations, provided more than 16,000 volunteer hours to local nonprofit organizations this past academic year.
Jillian Cruzet, a senior psychology major, has been involved with Helping Hands for three semesters and currently serves as the organization's director. She has volunteered for several projects, including the TWU Mobile Food Pantry, Habitat for Humanity, Keep Denton Beautiful and many more.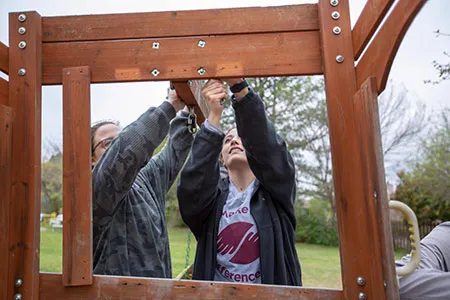 "Serving others is a vulnerable process, which allows us to connect with other people and ourselves on a deeper level," said Cruzet. "I've been able to develop so many connections through service at TWU."
Students like Cruzet model TWU's "Campus with a Heart" mantra by contributing their time, talent and effort to help local communities. Independent Sector, a diversified membership organization, calculated the 2018 value of a volunteer hour to be $24.69. Based on that figure, TWU students contributed almost $400,000 to 68 different community partners.
"TWU students are excellent communicators, self-motivated, and hard-working volunteers willing to help however is needed," said Carly Weld, program and volunteer coordinator at Keep Denton Beautiful, Inc. "We value their impact in making our community a great place to live."
This is the first concerted effort that the university has undertaken to track and monetize student volunteer hours, and although fewer students are on campus during the summer, volunteers have activities scheduled with Keep Denton Beautiful and voter registration efforts.
For more information or to request TWU student volunteers, contact Chris Scanlan at cscanlan1@twu.edu or 940-898-3593.
###
Page last updated 12:58 PM, June 5, 2019