TWU Little Chapel-in-the-Woods receives landmark architecture award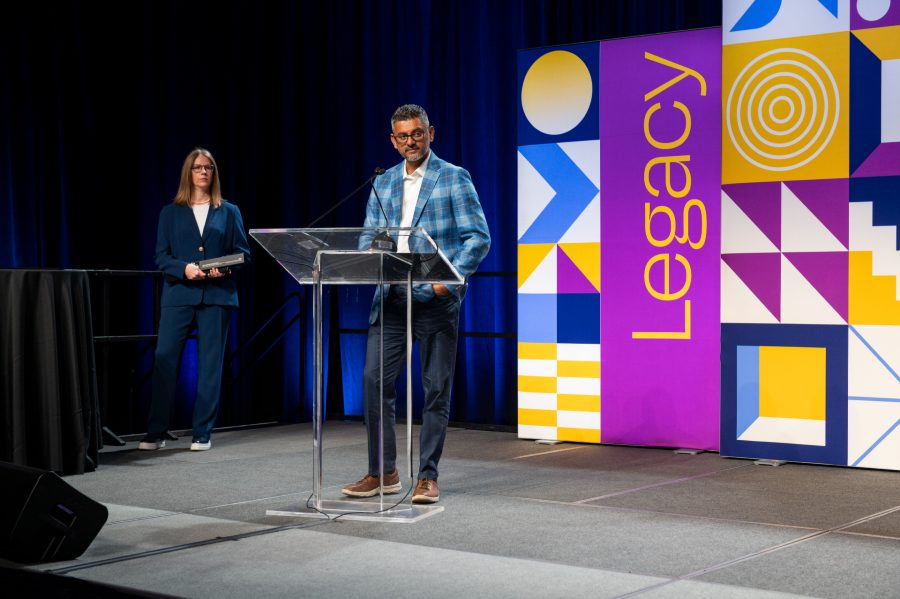 Oct. 29, 2021 — DENTON — The Little Chapel-in-the-Woods secured its place in history and was recently recognized by the Texas Society of Architects during the organization's 82nd Annual Conference and Design Expo held in San Antonio on October 7-9. The group honored the Chapel with its Architectural Landmark Award.
The award, following recognition by the Dallas AIA earlier this year, recognizes the Chapel for its "status as an architecturally significant building that continues to inspire architects and architecture and is considered a landmark by the profession."
Before an audience of more than 1,000 architects and designers, Alex Thomas, architect and director of planning and design at TWU, accepted the award on behalf of the university.
"All buildings have a purpose and importance and some like the Little Chapel withstand the test of time," said Thomas. "Not only does this award recognize the TWU community of faculty and students who helped construct the Chapel in the beginning, but also it recognizes the fact that the TWU community has been a good caretaker of this very special Texas landmark for more than 80 years."
Built in 1939 and designed by renowned Texas architect O'Neil Ford to be a place of reflection for students, the Little Chapel is considered to be the ultimate realization of Ford's vision for architecture to be contemporary but also of a specific place or culture. It is considered to be a masterpiece of architectural regionalism.
At only 90 feet long and 42 feet wide, the Little Chapel-in-the-Woods at Texas Woman's University is small but mighty—and endearing. Notwithstanding its place in architectural history, the Chapel is also a favorite place for TWU students seeking a quiet place for introspection as well as for couples looking for an intimate venue to exchange their wedding vows.
For additional information on booking and rates, contact Brittany Jasper at bjasper1@twu.edu or call 940-898-3516.
###
Page last updated 8:22 AM, October 29, 2021