TWU's Rosa-Davila appointed to accreditation board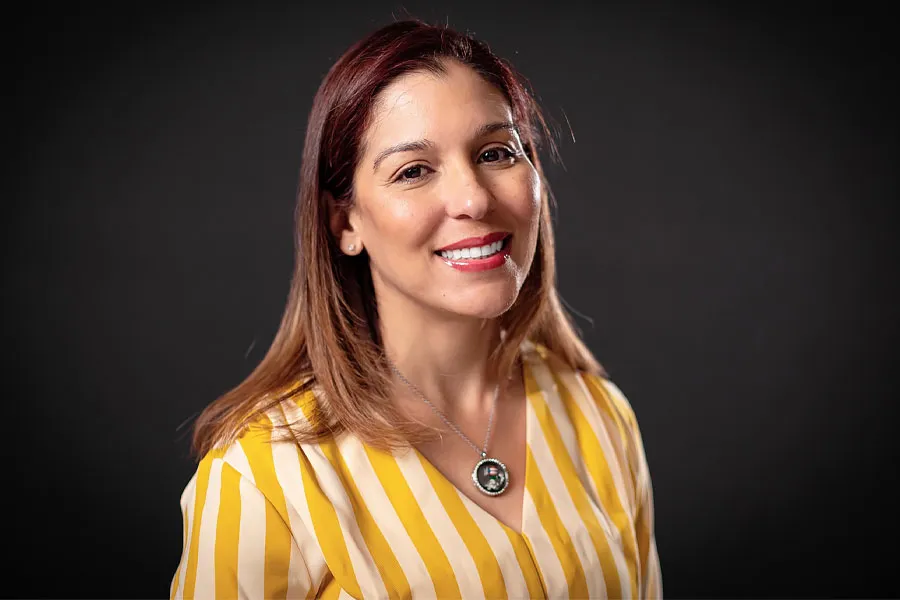 June 7, 2023 – DENTON – Accreditation is the lifeblood of any postsecondary program. It tells prospective students that an institution has met recognized standards and delivers a quality education, and it qualifies graduates in many fields for state licensing.
Without it, graduates' employment prospects are severely hampered.
"If you don't graduate from an accredited social work program, you cannot sit for licensure," said Abigail Tilton, PhD and Dean of Texas Woman's University College of Arts & Sciences. "Looking at those professional degrees where the accreditation and licensure are essential, you can't practice without being licensed."
And one of TWU's own is now one of the gatekeepers of this precious commodity.
Emarely Rosa-Davila, PhD, assistant professor and program coordinator of TWU's bachelor of social work program, has been appointed to a three-year term with the Council on Social Work Education's Board of Accreditation, which governs accreditation nationwide.
"They are in charge of the standards of social work and the quality of the program," Rosa-Davila said. "So they are the ones who decide what programs get accredited and which ones don't. Yeah, it is a big deal.
"It was amazing when I got the letter," she added. "It speaks about how much they respect my ethics and my work."
"I think this is a wonderful and well-deserved acknowledgment of her commitment to social work as a profession and social work as an educator," Tilton said. "Well-qualified, well-trained students who can sit for licensure and become highly skilled, very ethical social workers that adhere to the values of the profession. I think it's a tremendous accomplishment on her part to get that type of recognition."
TWU was one of the first programs in Texas to earn accreditation, in 1974, and has never lost that status.
"This program showed that we keep the standards of social work and we keep improving," Rosa-Davila said. "We are a small program, but they recognize the work that we do."
"The last time site visitors were here, I asked, 'what can we improve as a program?'," Tilton said. "And I kid you not, the site visitor said, 'I can't think of a single thing. You all are a model program.' And I think everyone in the social work program is committed to maintaining that kind of model status. Making sure that we're doing things well, that we're being innovative and that we are graduating just really outstanding social work students. At almost every commencement, there's a social work student who's being recognized. Oftentimes social work students are profiled just because they're so exemplary and they have a program that supports them to be so."
Rosa-Davila's road to this moment began years ago when CSWE approached her to do site visits, an essential part of the accreditation process. In addition to her social work qualifications, Rosa-Davila, who is from Puerto Rico, speaks Spanish.
"Because with the growing of Hispanic-Serving Institutions in the United States, they need more people that speak Spanish to communicate with the students and sometimes even with faculty," she said. "For example, they have 13 programs in Puerto Rico, so they need people that speak Spanish to go there."
Indeed, it was Rosa-Davila's outspoken advocacy for equity in the treatment of Spanish-speaking institutions that drew the attention of CSWE.
I come from Puerto Rico, and I know firsthand the double standard of being in a Hispanic or Spanish-speaking institution," she said. "I moved to Texas, and it was much easier in Texas than it was on the island. Why do they ask us here to do something that is like really easy but on the island was too many details? I thought maybe it could be because they didn't understand the context of the programs there. I want to be part of this because I want to help them close that gap. If I can support the programs on the island and in the territories and in Hispanic-Serving Institutions, I will do that.
"I guess it took me speaking up and sometimes being the person who doesn't agree with stuff, hey, I think this is not okay and this is why," Rosa-Davila added. "And finally they start listening."
This, however, is not going to be easy. The notification from the CSWE warns that this "is a demanding commitment of time."
There are 864 social work programs in the United States, though not all are up for renewal each year (accreditation lasts eight years). Three meetings a year to consider programs seeking accreditation or reaffirm their status. Preparation for these meetings involves days of review of documentation from the programs in question (just one set of those documents fills a three-inch binder). A minimum of two candidacy visits a year followed by writing and filing a detailed report.
"The board also are the ones that do the interpretations for the social work standards on social work education," Rosa-Davila said. "We are the ones to talk about what are the competencies that we need for this era. They are the ones that say, okay, this is what is going on in the United States. This is what the target for social work should be. This is what we need to teach our students and then they decide how we're going to do it."
"This is not just some type of honorific board that she's serving on," Tilton said. "They are ultimately responsible for recommending either initial accreditation or reaffirmation for every accredited program. She's served as a site visitor for several years. She has made site visits to other universities. And now all that work will be coming up to her from all those institutions, from all those site visitors. For her and the board to accredit or reaffirm a program, it's no small task."
"I think if I'm able to do this is because I have the support of my supervisor, Dr. Nila Ricks and Dr. Tilton," Rosa-Davila said. "I talked to them and said this is what I want to do, and they are supporting me, giving me the time to do this."
Media Contact
David Pyke
Digital Content Manager
940-898-3325
dpyke@twu.edu
Page last updated 2:50 PM, June 7, 2023