Valentine J. Belfiglio, Ph.D.
Professor of Political Science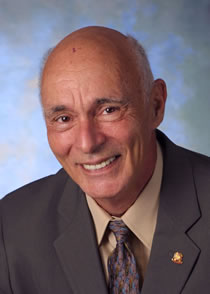 Office: CFO 613
Phone: 940-898-2144
Fax: 940-898-2130
Email: vbelfiglio@twu.edu
Valentine J. Belfiglio, Ph.D., is a professor of political science at TWU, specializing in international relations and American national defense policy. He has also taught at the University of Oklahoma.
Professor Belfiglio has written six books and more than 100 articles. His works have been published in English and Italian, while some have been translated into Spanish, Hebrew and Chinese. He has received a postdoctoral fellowship from the Foreign Policy Association, three grants from the Texas Committee for the Humanities and a sabbatical leave from TWU in 2001 to conduct research in Italy.
In 1982, the President of Italy conferred upon him the title of Cavaliere dell'Ordine al Merito della Repubblica Italiana (Knighthood) for his extensive work in promoting Italian culture in the U.S. In 1990, the East Texas Historical Association bestowed upon him the C.K. Chamberlain Award for excellence in historical research and writing. In 1985, he won the Guido Dorso Prize in literature in the category of research from the University of Naples. He was the recipient of TWU's Cornaro Award for excellence in teaching and an outstanding commitment to scholarship and the advancement of learning in 2003. He has also presented refereed papers at several international conferences.
Professor Belfiglio was born in Troy, New York and graduated from the Albany College of Pharmacy. He received a master's and a doctorate from the University of Oklahoma. He served in the U.S. Army, was a hospital unit training officer during the Vietnam War and is a retired colonel of the Texas State Guard. He taught, inter alia, "History of Bioterrorism," at the Texas Military Academy, Camp Mabry in Austin. His biography appears in the current edition of Who's Who in America.
Page last updated 3:28 PM, February 13, 2019