Katherine Landdeck, Ph.D.
Associate Professor of History and Director of Pioneers Oral History Project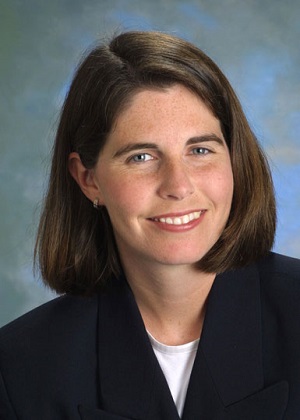 Office: CFO 610
Phone: 940-898-2140
Fax: 940-898-2130
Twitter: @katelanddeck
Email: klanddeck@twu.edu
Katherine Sharp Landdeck earned her doctorate from the University of Tennessee and is an associate professor of history at TWU. She teaches courses on the twentieth-century United States and global war. Some of her classes at both the undergraduate and graduate level include the U.S. in World War II, World at War (a global look at WWII), Between the Wars (from WWI to the beginning of WWII), Post-1945 United States, Oral History Methodology, Public History and others. Landdeck runs our robust history internship program that encourages all History and Political Science students to complete an internship as part of their studies.
Her research focus is in public history. She has been recognized globally for her expertise on the Women Airforce Service Pilots (WASP) of World War II, including work with the media and in documentary films. She was nominated for an Emmy Award for her work as a contributing producer and historian on the film "Silver Wings, Flying Dreams: The Complete Story of the Women Airforce Service Pilots." Her other documentary film work includes contributing historian in PBS station KERA's Emmy-winning film "High Hopes" and the Gracie Award-winning film "We Served Too".
Landdeck was a featured historian on the A & E /History Channel two-hour documentary on Pearl Harbor as well as the History Channel film on unknown stories of World War II. She taught for C-Span's American History Television's "Lectures in History" series with her lecture on American women in World War II.
Her extensive work with the media includes NPR Morning Edition's Gracie Award-winning story on the WASP, including her timeline which is mentioned in the White House Photographers Association Award of Excellence. Her expertise on the WASP has been recognized by Al Jazeera America, The Washington Post, CNN, NPR's All Things Considered, NBC Nightly News with Brian Williams, Nine Network of Australia, BBC Mundo, CBS Evening News with Katie Couric as well as USA Today, The New York Times and The Los Angeles Times.
As part of her public history scholarship, she has written for The Atlantic and The Huffington Post and numerous aviation publications. She was featured in the two-part "Stuff You Missed in History Class" podcast on the Women Airforce Service Pilots, which has had more than 600 thousand downloads thus far. She is the vice president of the Wingtip-to-Wingtip Association and helped design and sponsor the National Trophy Award-winning float "Our Eyes are on the Stars" for the 2014 Tournament of Roses Parade. She worked with the OpEd Project's Public Voices Thought Leadership Fellowship and was a Guggenheim Fellow at the Smithsonian National Air and Space Museum.
In addition to her public history work, Landdeck is completing her book, "The Women with Silver Wings," following the WASP of World War II from the 1920s to 2017 to be published by Crown Publishing, a division of Penguin-Random House. The book has been optioned for a film by Fox 2000, the same 20th Century Fox studio that produced "Hidden Figures." Additional research includes a study of the first generation of women to fly as military pilots after the WASP; those women military aviators of 1973-1993. She is also looking at aviation in the decades before World War II, particularly the experiences of women pilots.
Page last updated 9:45 AM, November 18, 2021