Jacob M. Blosser, Ph.D.
Professor of History, Director of Graduate Study in History and Political Science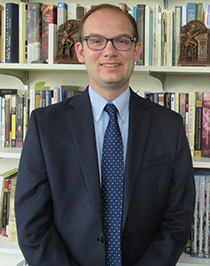 Office: CFO 609
Phone: 940-898-2141
Fax: 940-898-2130
Email: jblosser@twu.edu
Jacob M. Blosser is Professor of History and Director of Graduate Study in History and Political Science. He is the current national president of Phi Alpha Theta History Honor Society. Blosser teaches courses on colonial and revolutionary America, the Atlantic World, and early modern Europe. He is particularly interested in religious history, popular culture, and the history of the book. He holds degrees in History from the University of South Carolina, James Madison University, and Milligan College. Dr. Blosser is the founder of the university's nationally award-winning student history journal, Ibid. In 2019, he was appointed to the Texas Undergraduate Education Advisory Committee, the state's leading voice on undergraduate education. Blosser's research has appeared in Church History, The Virginia Magazine of History and Biography, Episcopal History, and The South Carolina Historical Review. He is the recipient of numerous teaching and advising awards and has received research funding from the Folger Shakespeare Library and the National Endowment for the Humanities. He enjoys travelling both in this country and abroad and has visited more than 200 National Park service sites.
Page last updated 2:20 PM, January 21, 2020