TWU uses NSF grant to look at legislative vs. court-based policy outcomes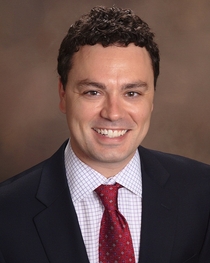 Texas Woman's University assistant professor Parker Hevron, Ph.D. (government) is in the middle of a research project on media coverage and its possible effects on perspectives about the American judicial system, which is being done with co-principal investigator Jeb Barnes (political science, University of Southern California) through a National Science Foundation (NSF) grant.
The $219,000 grant, which was awarded in early 2017, will allow Hevron and Barnes to look at the many policy problems in America handled by the court system rather than by democratically-elected lawmakers. The process is called "judicialization."
Hevron and Barnes, with the assistance of several history and government graduate students, are attempting to fill in gaps in the understanding of judicialization by examining media coverage of judicialized versus non-judicialized policies in occupational disease compensation, vaccine-related injury compensation and environmental disaster compensation. The duo is researching the idea that differences in media coverage can affect individuals' attitudes toward the American court system.
The grant allows the investigative team to look at the effects of pursuing court-based policymaking. The work will address two distinct groups:
activists, who work on strategies that overcome potentially skewed and distorted media coverage of court-based policymaking, and
scholars, who look at research that argues judicialized policymaking is a distinctive form of American policymaking, and its effects are both important and far-reaching.
"This NSF grant gives us the resources to conduct meaningful research into the consequences of court-based policymaking in the U.S.," he says. "We are hoping that policymakers will use our findings to help determine whether to seek policy change through the court system or through the legislative process. For various reasons, it is often easier for activists to eschew legislatures in favor of the courts, but we argue that if policymakers go down that road then they must be aware that their efforts may lead to fundamentally distorted media coverage and that they should employ strategies to counteract this."
The team is in the second and third phases of media coverage data collection in vaccine-related injuries and environmental disaster compensation from the 1960s to the present. TWU graduate student assistants will help conduct a content analysis to examine the impact of media coverage of judicialization on peoples' attitudes.
"The fact that the grant is administered through TWU means a lot," says Hevron. "It's great on many levels—it gives graduate students an opportunity to gain meaningful experience conducting research and it also provides them with monetary support as they go through graduate school."
Page last updated 11:11 AM, May 14, 2018