TWU nursing PhD student honored with Virginia Chandler Dykes scholarship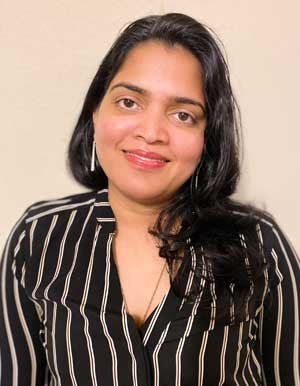 Nisha Mathews, a graduate student pursuing her Ph.D. in nursing science from TWU's Nelda C. Clark College of Nursing in Houston, will receive the 2020 Virginia Chandler Dykes scholarship from the College of Nursing.
From an early age, Mathews wanted to be a nurse educator, inspired by the positive affects nursing has on communities and opportunities it affords.
"It gives me great joy to guide and mentor others," said Mathews. "Nursing professionals work closely with other healthcare members, consumers and communities for better outcomes."
This spring, Mathews began work on her dissertation, inspired by her exploration of Houston as a culturally diverse city and by a multicultural nursing course at TWU.
A current resident of Houston, Mathews has been part of the nursing faculty at San Jacinto Community College since 2013. Internationally, she has worked at Our Lady Hospital of Children in Dublin, Ireland, and the Escorts Heart Institute & Research Center in Delhi, India. Published multiple times, Mathews received her BSc (Hons.) nursing from R.A.K. College of Nursing in New Delhi, India. She completed her master's from Walden University in Minnesota in 2013.
"From my dissertation committee chair to the financial aid and scholarship offices, everyone at TWU has taken a genuine interest in me and made it possible for me to succeed," said Mathews. "There are simply no words to thank them enough."
Mathews has two children, an 11-year old boy and 6-year-old girl, with her husband whom she says has been a "great strength in this journey."
About Virginia Chandler Dykes scholarships
Five graduate students, one from each of the five colleges at Texas Woman's University, will receive Virginia Chandler Dykes scholarships at the Feb. 20 TWU Dallas Leadership Luncheon, founded by Virginia Chandler Dykes. The annual luncheon is presented by the Bank of Texas, Texas Woman's University, and the Texas Woman's University Foundation, and will be held at The Belo Mansion and Pavilion in Dallas.
In the past 17 years, more than $1 million has been raised for scholarships from the proceeds of this luncheon. This year's Dallas Leadership Luncheon will honor Jennifer Staubach Gates, Dallas City Councilmember, as the recipient of the 2020 Virginia Chandler Dykes Leadership Award.
Media Contact
Staff Reporter
940-898-3456
Page last updated 4:11 PM, September 29, 2021