TWU alum showed focus, grace during pandemic's peak at hospital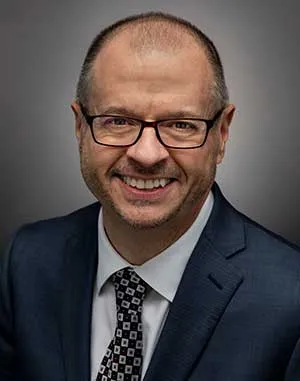 August 19, 2020 – HOUSTON – It is difficult to imagine a task more daunting than being the chief nursing officer at Houston's Ben Taub Hospital.
The 444-bed teaching hospital provides indigent care, includes an elite Level 1 trauma center and lies in the heart of Houston's Texas Medical Center, the largest in the world.
But here's something infinitely more challenging than being chief nursing officer at Ben Taub Hospital: Being chief nursing officer at Ben Taub during a pandemic – and simultaneously pursuing a PhD in nursing science.
That is precisely the situation TWU alumnus Matthew Schlueter was in during the spring and summer of 2020. As if overseeing hundreds of nursing staff at a bustling safety-net hospital was not enough, Schlueter found himself immersed in crisis as COVID-19 patients overwhelmed the hospital beginning last spring.
The critical care unit set aside specifically for COVID patients was operating at more than 150% of capacity at the height of the pandemic's spread through Houston. Patients had to be held in the emergency room longer than usual for a lack of beds.
"Units were full and we knew sick patients were still coming," Schlueter recalled. "Never in my entire career have I seen something like this with such a concentration of patients with the same sickness."
Patients were succumbing to the virus at an alarming rate and nurses themselves were becoming infected, creating staffing problems. Incredibly, Schlueter and his nursing staff persevered, and the patient load has somewhat stabilized since then.
To simply say it was a challenging time for that hospital staff is a true understatement, but the experience taught Schlueter something valuable: "You can change and make adjustments when you are pressed to do it," he said.
Reflecting on that time, Schlueter credited the flexibility and support he received from his Texas Woman's professors while pursuing that PhD, which he completed this month with the help of his dissertation chair, Sandra Cesario, PhD.
"He really is an incredible person," Cesario said. "Matt stands out as an exceptional PhD student, a leader in the nursing profession, and an advocate for underserved populations. He is true to his beliefs in making sure Houston's most marginalized people receive the best possible healthcare."
That duty is important to Schlueter, as he describes his role as CNO as primarily a patient advocate, but also an arbiter and advocate for the nurses on staff.
"This pandemic stretched the staff's mental and physical capacity, but it was more mental stress than physical. Our neighbors, friends and coworkers were getting infected," Schlueter said. "It was very scary to not know why someone could get infected or the differences in how COVID affected people. It is not the flu. There is no consistency. Some were down for two days while others took months to recover."
Despite the stress, Schlueter said it is difficult for him to fathom doing any other kind of work. He said he knew he wanted to go into the medical field since high school, when his mother told him that he seemed to have the personality for it.
"I knew instantly," Schlueter said.
With an MBA, a Master of Science in Nursing, and now his PhD – all from TWU – Schlueter feels he is amply prepared for teaching and research, and he is particularly enthusiastic over the opportunity to educate the next generation of nursing professionals. Cesario said Schlueter's penchant for connecting with people is an added asset.
"I had the pleasure of traveling internationally with Matt in our education abroad courses to China and Vietnam," Cesario said. "He connected immediately with hospital administrators in those countries, many of them requesting that he speak to their nurses and asking him if he was willing to serve as a consultant."
His dissertation explored the health behaviors of transgender people, which called for patience in recruiting subjects to interview.
"To run a large hospital system in the middle of a pandemic and complete a dissertation that required interviewing a sometimes difficult-to-recruit population requires focus and dedication," Cesario said.
It was focus and dedication that no doubt helped save lives during that extraordinary time at Ben Taub Hospital.
Page last updated 4:09 PM, September 29, 2021