Nursing students find reward in COVID-19 response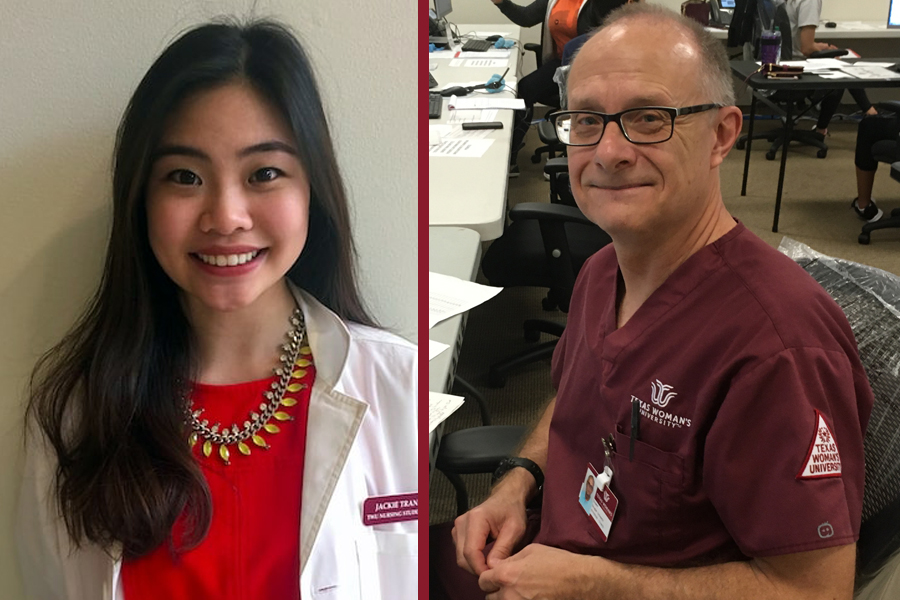 May 4, 2020 – HOUSTON – The phone call Douglas Schwartz took from the frantic woman earlier this spring was unsettling to say the least. The woman had lost a portion of a lung to a previous disease, was startled by symptoms she was experiencing as the COVID-19 pandemic was spreading, and she was caring for six children.
"She was concerned about transmitting the virus to her children and she was also concerned about what the virus could do based on her health history," Schwartz recalled.
As he had learned to respond, Schwartz, a senior nursing student at Texas Woman's University in Houston, scheduled the woman for a COVID-19 test, instructed her to discuss her symptoms with her doctor, and directed her to arrange for child care while she awaited results.
It was one of thousands of phone calls that Schwartz and his nursing student contemporaries handled at a Harris County call center that opened as the pandemic began making its way into the United States earlier this year. The call-takers were supervised by experienced physicians and nurses, and in a typical day the phone bank would handle as many as 600 calls.
As part of their clinical instruction, senior-level nursing students from schools throughout the Houston metro area played a significant role in screening callers for COVID-19 testing, as more experienced health care professionals were tasked with caring for those individuals exhibiting the most acute symptoms.
It was a front-line experience in nursing Schwartz will never forget and one no textbook can match.
"I never envisioned I would be doing something like this," Schwartz said. "I'm glad this opportunity came up. I am able to provide a valuable service during this difficult time."
Moreover, the experience sharpened his assessment skills in two ways: He's honed his ability to listen for verbal cues such as breathing that may indicate a respiratory issue; and he's learned how to use an interpreter on a conference call, as many Houston residents speak a language other than English.
Other nursing students, some of whom worked nine-hour shifts up to three days a week, shared similar sentiments.
"It's been eye-opening how many different kinds of people there are throughout Houston," said Jackie Tran, also a senior TWU nursing student in Houston. "It's been nice to talk to them – and help a lot of different people that call."
Besides scheduling tests and discussing symptoms, the students were charged with collecting demographic information to better determine where the spread was concentrated and at what rate certain groups were being infected.
Tran spent hours dispensing important guidance on what to look for and how to seek treatment, among other advice. A good deal of her time was used to reassure frightened callers.
"I've realized there's a strong need for better communication and preparedness on a healthcare level as well as the government level," Tran said of her phone bank experience. "Community health needs to be a higher priority in our country."
As Tran and Schwartz complete their final semester at TWU's Houston campus – in a way they likely couldn't have anticipated – the pandemic has them wondering what more of an impact it will have on them and their futures.
"There is some uncertainty because of so many unknowns," Tran said. "Overall, though, there hasn't been too much of a change in my plans other than when I can start work. Once hospitals are hiring and I'm certified, I'll hopefully be able to get started."
And although the virus has dispensed with their traditional commencement ceremony because of health concerns, Tran feels a great measure of reward in providing a badly needed service during the pandemic.
"As a group, we all still feel really excited to be graduating even though we don't really get a traditional ceremony," she said. "We're grateful that we're in a position to make an effort to mend the community."
Media Contact
Matt Flores
Assistant Vice President, University Communications
940-898-3456
mattflores@twu.edu
Page last updated 3:44 PM, September 27, 2021