Blended program fast tracks nurses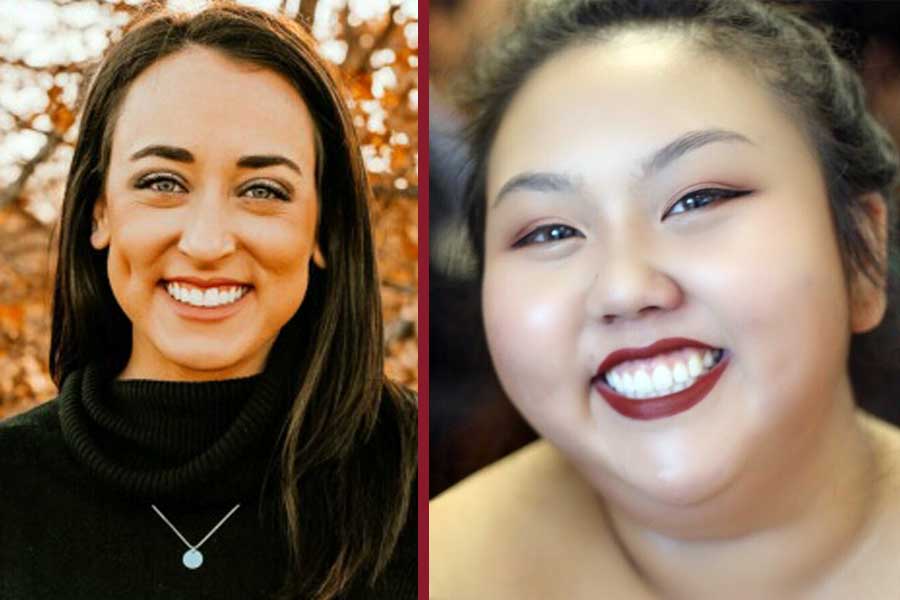 May 4, 2020 – DENTON – Alexis Jennings is taking a big leap toward her dream job of becoming a chief nursing officer this spring by earning a bachelor's degree in less time that it took many of her peers.
In May, Jennings will be among the very first graduates of a joint nursing program between Texas Woman's University and North Central Texas College (NCTC) that allows students to shave up to a year off the typical time to a bachelor's degree.
Under the program, NCTC nursing students have the option of simultaneously completing a bachelor's degree at TWU, allowing them to fulfill requirements in less time.
A common pathway for many students to earn a baccalaureate degree in nursing is to complete an associate's degree in nursing, then apply to an RN-BSN program to move toward a baccalaureate nursing degree. Admission is competitive in both programs, and students often must stop-out in between degrees, lengthening the time to completion.
The collaborative offering between Texas Woman's and NCTC provides a more direct path to a Bachelor's of Science in Nursing degree. In this innovative program, students work concurrently toward the associate's degree at NCTC and the bachelor's degree at TWU, which allows students to complete both degrees within four years.
"This partnership is not only good for students, who benefit from getting a quality nursing program and an opportunity to be on the front lines sooner, but it's good for Texas, which benefits by getting more critically needed health professionals," said Texas Woman's Chancellor Carine M. Feyten.
"The blended program between North Central Texas College and Texas Woman's University is a cutting-edge approach to baccalaureate nursing education," added NCTC Chancellor Brent Wallace. "The integrated program exemplifies collaboration that is essential in the future for students seeking degrees in health sciences. This is truly a star in Texas higher education."
For Jennings, earning both degrees in the seamless program allows her to be a practicing nurse sooner – and on a path to earning an advanced degree, which she hopes to one day parlay into a top nursing position at a hospital.
"I've always been fascinated with the human body and how it regulates itself," Jennings said. "I want to be that person someone needs when they aren't having their best day."
Although the accelerated program may require a more rigorous workload, Jennings said students who are adept at juggling a full-time academic course load and a part-time job should find the program suitable to their pace.
For Julie Vo, who also graduates from the NCTC-TWU program this spring, the program has helped her focus on career goals.
"This program helped me learn to prioritize a lot better," Vo said. "This allowed me to graduate and fully focus on my career. I didn't want to be a nurse while still stressing about being in school."
Although the program is only now producing its inaugural class of graduates, it eventually could help add significantly more bachelor's level nurses to an industry badly in need of more health care professionals. It also provides a pathway for an educational trajectory that may help to move more nurses into graduate education, thereby alleviating, on graduation, the nurse faculty shortage.
"By getting these students prepared more quickly – and through a quality bachelor's program – it makes them more marketable, especially to the major hospitals which prefer bachelor's-prepared nurses," said Diane Neu, interim director of the Associate Degree Program at NCTC.
In spring 2021, Texas Woman's plans to establish a similar nursing partnership with Alvin Community College in the Houston metro area, where TWU has a presence in the Texas Medical Center, the world's largest.
Neu said it's not just the health care industry that gets a boost from the program, as the students themselves gain both highly marketable nursing skills and a rewarding experience.
The academic experience turned out to be fruitful for Vo. Although she graduates in early May, she already has accepted a nursing position in the Telemetry Unit at Texas Health Harris Methodist Southwest Hospital in Fort Worth. But first, she must pass her licensure exam before she can begin her new job. Still, Vo knows she's achieved a major milestone on her path to one day becoming a nurse practitioner or nursing faculty member.
"Going through clinicals confirmed for me that (nursing) is where I wanted to be," she said.
* Effective June 1, 2020, Texas Woman's University's program will be RN-BSN
Media Contact
Matt Flores
Assistant Vice President, University Communications
940-898-3456
mattflores@twu.edu
Page last updated 3:43 PM, September 27, 2021