TWU alumna had one-of-a-kind path to PhD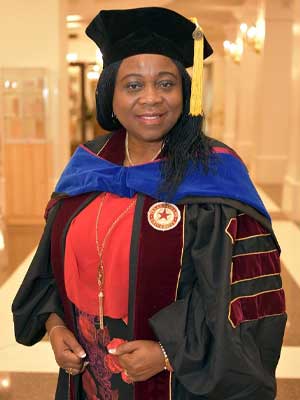 Feb. 8, 2022 — DENTON — Sometimes, the path to a PhD can be quite interesting. Other times, the journey can be downright challenging. For Florence Osuofa, it was both.
Osuofa knows first-hand the challenge of simultaneously adjusting to a new country, working a new job, raising a family and pursuing an academic career in the United States. And she also knows the peril of a full-scale campaign to deter maritime pirates in the crime-infested Gulf of Guinea off the coast of her home country, Nigeria.
The former petty officer in the Nigerian Navy spent several years thwarting the activities of pirates in the gulf, where maritime crimes ranged from kidnapping to oil theft. She underwent a vigorous training program, which was key to curbing piracy in the region.
"The aim was to ensure the safety of lives at sea, security, and search and rescue of sailors and vessels in distress," Osuofa recalled.
She was among very few women fighting pirates in the Nigerian Navy at the time. And it was that military experience that helped prepare her for future leadership roles and challenges.
She raised three children who were 14, 12 and 9 years old when the family came to the United States from Nigeria. Navigating immigration laws created a difficult financial situation for the family. As an international student, Osuofa was limited to on-campus work, but was able to support herself and her family.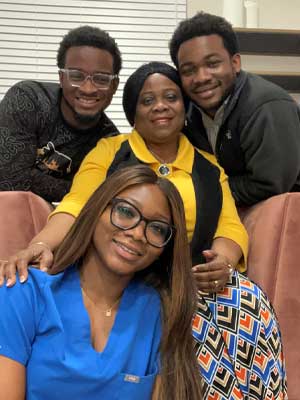 Osuofa quickly adapted to new routines, and made a point to attend all her children's school-related activities. It was a dizzying challenge to pick up each child at different schools and different dismissal times, but she found a way.
To maintain a strong family bond and set a studious path for her children, Osuofa regularly took them to the library where the foursome studied together as she pursued two master's degrees and her doctorate. Those study habits paid off because Osuofa will not be the only one in the family with a PhD for long. Her son is pursuing a doctorate of his own in chemical engineering, while her daughter is already a registered nurse and her youngest son is completing a bachelor's degree.
Osuofa's interest in a degree in marriage and family therapy sprung from how she values family relationships. She believes supportive relationships for children, like the one she enjoys with her own, are the most important factors in a child's development.
"When a child comes from a family background with loving, peaceful and supporting relationships, it becomes easier for the child to respect and value other people's cultural experiences and differences," Osuofa said.
Media Contact
Matt Flores
Assistant Vice President, University Communications
940-898-3456
mattflores@twu.edu
Page last updated 10:20 AM, February 10, 2022