New tradition to fly across TWU campus this fall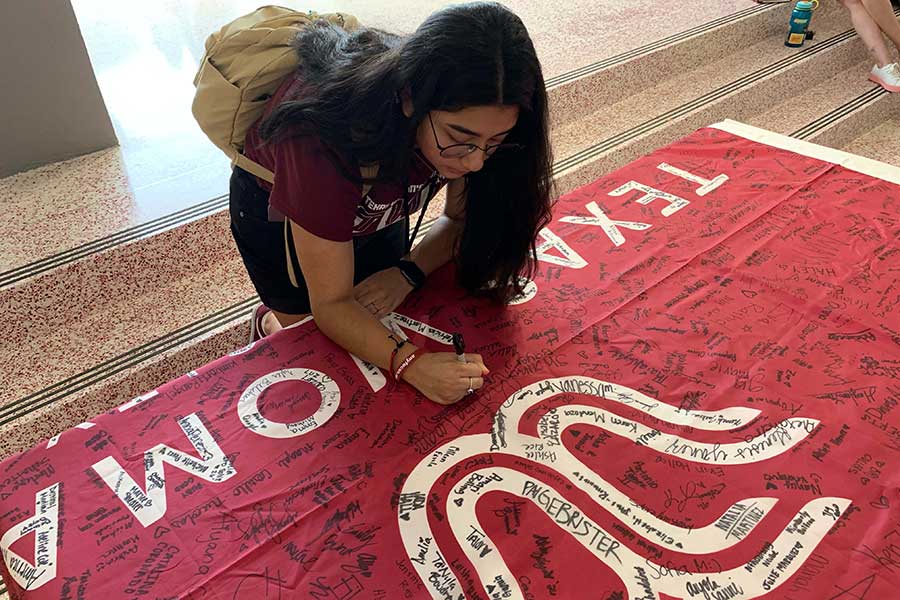 Texas Woman's students will see a new flag flying across campus as they make their way to classes this fall. The flag will bear the names of more than a thousand new first-year students beginning their journeys as Pioneers.
The new tradition launched during summer orientation. After students registered for their first semester of classes, they made their way to Hubbard Hall to sign their names on an 8-foot-long TWU flag. The Center for Student Development (CSD) hatched the idea as a novel way to bridge the gap between summer orientation and the start of the fall semester.
"We wanted something that would help bring orientation to a close while garnering excitement for start of the school year," Associate Director for New Student Programs Josh Walton said. "The students have been eager to have their name written down on a piece of TWU history."
The inaugural flag will fly during move-in week, the first week of school, and commencement in four years. The hope is to ignite excitement among students throughout their collegiate career. "We hope when they [new students] see their name flying on the flag they feel a sense of pride and community," Walton said.
The activity is the first tradition geared toward new students and will be embedded in future New Student Orientation sessions.
Media Contact
Leslie Fredrickson
Coordinator, Social Media & Media Relations
940-898-3464
lfredrickson@twu.edu
Page last updated 8:16 AM, August 31, 2022