First Black student's legacy still felt 61 years later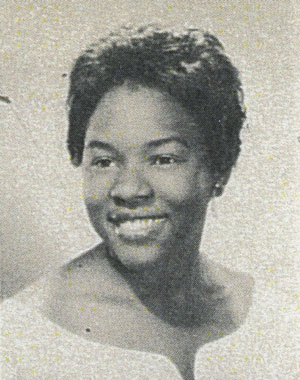 She may not have fully grasped the magnitude of it at the time, but the first step Alsenia Dowells took as a student 61 years ago on the Texas Woman's University campus in Denton was huge.
Dowells was the first and only Black student enrolled at Texas Woman's in the fall of 1961. It was only a month earlier, in August of that year, that the TWU Board of Regents voted without dissent to desegregate the institution. Other higher education institutions in Texas were slower to embrace such change.
It was a period of extraordinary tumult in the United States, one in which activists seeking racial equality often clashed with others determined to keep institutions segregated. In December of that same year, Martin Luther King, Jr., led protests against racial discrimination in Albany, Georgia, to give new life to a desegregation movement.
But it was still three years before the landmark Civil Rights Act of 1964 was passed that led to more integration and hastened equal access to restaurants, transportation and other public facilities.
Although Dowells attended classes at TWU for less than a year, her enrollment at Texas Woman's broke the color barrier and laid the foundation for others to follow. According to one historical account, Dowells left the university in 1962 to work in labor and delivery at Parkland Hospital in Dallas. Dowells died in 1988.
The same year Dowells left Texas Woman's, six more Black women enrolled at the university. Although the university was officially integrated, Black women enrolled at TWU at that time recalled being mistreated by some members of the university community.
One Black student said she was told she couldn't participate in the choir because it was for whites only and none of the six were allowed to live in residence halls, which remained segregated.
Still, the women persevered, and they graduated in 1966. That made Gloria Brannon, Marvia Elmore, Ruby Griffin, Bettye Person, Minnie Smith and Liz Williams the first Black women to graduate from Texas Woman's University.
Since that time, enrollment for people of color has continued to increase dramatically. In 2021, Texas Woman's reported its most diverse student body ever, and U.S. News & World Report that year ranked TWU as having the fourth most diverse student body in the country. In fall 2021, minorities accounted for roughly 58 percent of the university's entire student body, and Black students made up 21.4% of the entering class.
Media Contact
Matt Flores
Assistant Vice President, University Communications
940-898-3456
mattflores@twu.edu
Page last updated 4:23 PM, February 1, 2022