TWU hosts Democracy in Action Day for local Girl Scouts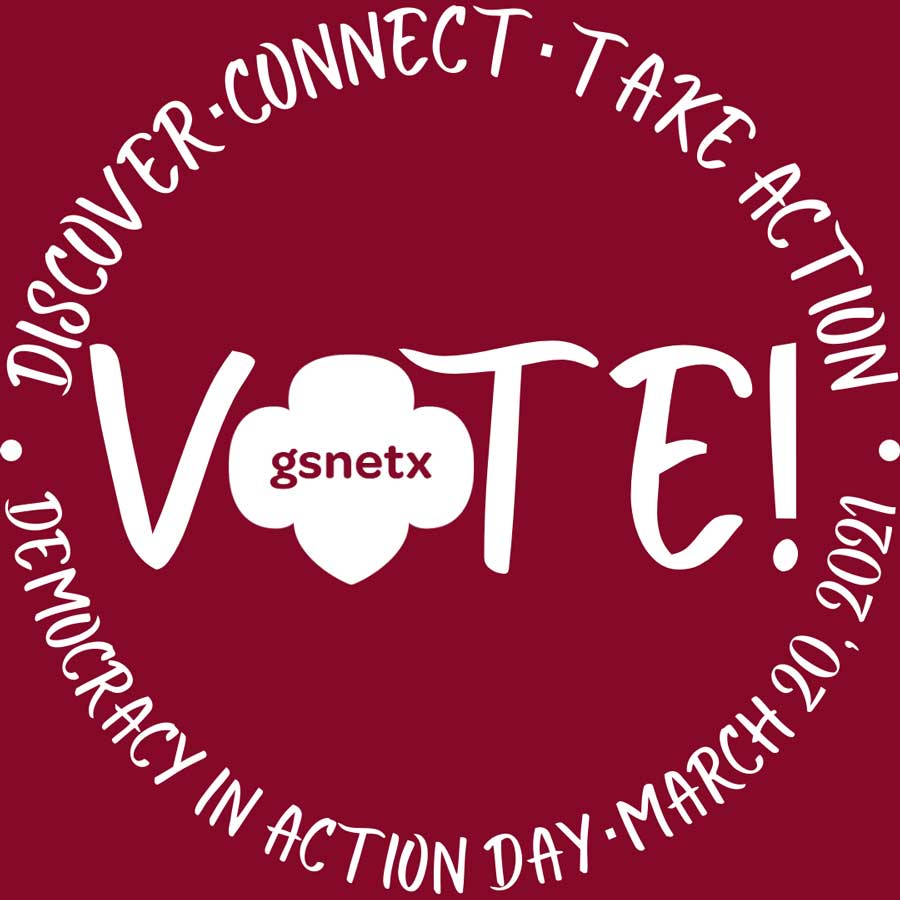 March 23, 2020—DENTON—Being a Girl Scout is about more than selling cookies; it's about leadership too. Thanks to a grant from Communities Foundation of Texas, 125 local Scouts learned about advocacy and the legislative process during a Democracy in Action Day sponsored by TWU's Center for Women in Politics and Public Policy (CWPPP). At this full-day, virtual event held Saturday, March 20, girls in grades 3-12 participated in activities to earn the Women's Right to Vote patch and Democracy badge.
"It is so important to ensure girls and women know they have an important role in our democracy," said Tammy Key, interim director of the CWPPP, which is part of the Jane Nelson Institute for Women's Leadership. "They are the future elected officials, policymakers and movement leaders who will be addressing important problems in our society. The younger they understand their voices are significant and necessary in shaping solutions, the more engaged they will be."
Democracy in Action Day included a mock legislative session, where the girls played roles as Texas representatives and senators working together to amend and pass a proposed bill. Under the direction of college student volunteers, including 16 from TWU, the Scouts reviewed a proposed bill through the lens of the legislators they were playing and worked to create an amended bill that favored their districts, its members and all Texans.
TWU student and adult Girl Scout Anna Kajs (BS Child Development, '24) helped with the event. "I loved seeing the girls learning about the process of voting and the people of different communities and how the cogs in their brains were turning. You can tell they wanted to be involved and make sure they were informed."
Kajs, who started Scouting in first grade, enjoys volunteering for events such as this because of the difference her Scouting experience made in her life. "In Girl Scouts, there is a big focus on women in leadership and how important it is to have girls involved in the world and how to make their mark and make a change for the better in their communities and beyond."
The democracy event planners—Girl Scouts of North Texas and the CWPPP—provided many opportunities for the participants to learn and practice advocacy. The morning activity focused on crafting messages targeting audiences such as the media, nonprofits and local representatives about issues such as the digital divide and neighborhood walkability. They also had the chance to interact with guest speakers such as a political organizer, political reporter and city council member.
The Democracy in Action event was originally planned for last spring, but was delayed due to the coronavirus pandemic. Holding it during Women's History Month made sense, said Key.
"All participants from the Girl Scouts to the college volunteers may be making history one day," Key said. "We are so proud of the college women who volunteered their Saturday to lead this discussion in democracy. They are all terrific role models and will inspire this next generation of change makers."
About Communities Foundation of Texas
The Democracy in Action Day was made possible through a grant from the Communities Foundation of Texas' 19th Amendment Centennial Fund to create events recognizing the 100th anniversary of women's right to vote. With the goal of building thriving communities for all, Communities Foundation of Texas (CFT) works locally and across the state through a variety of charitable funds and strategic initiatives. CFT has awarded more than $2 billion in grants since its founding in 1953.
About the Jane Nelson Institute for Women's Leadership
The Jane Nelson Institute for Women's Leadership at Texas Woman's University is dedicated to preparing more women to take on successful roles in business and public service. Through the institute's three specialized centers—Center for Student Leadership, Center for Women Entrepreneurs and Center for Women in Politics & Public Policy—women get the education to establish careers as successful C-suite executives, the skills for building entrepreneurial businesses and the framework needed to run for public office.
Media Contact
Deanna W. Titzler
Director of Public Relations
940-898-3252
dtitzler@twu.edu
Page last updated 3:18 PM, March 23, 2021