Two TWU students selected for prestigious Schweitzer Fellowship program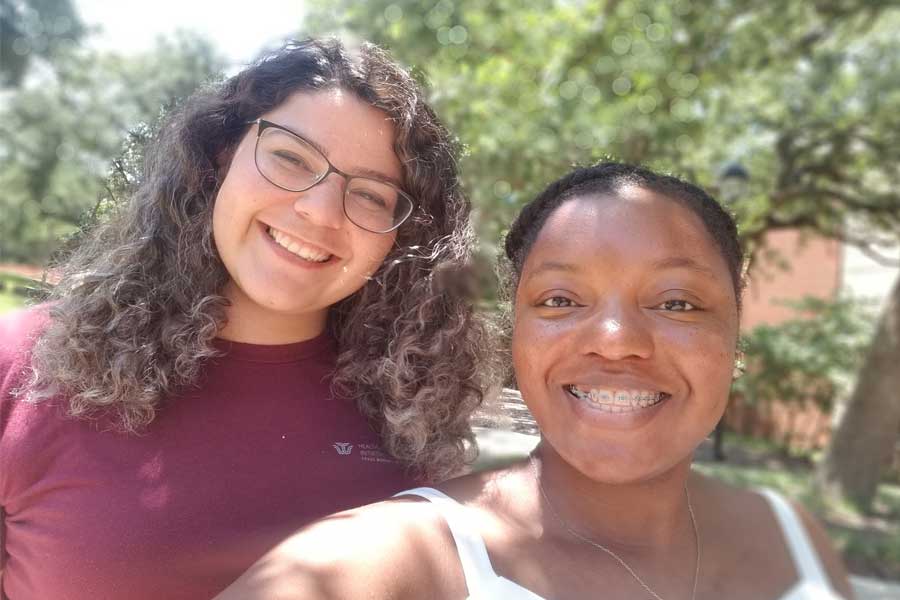 June 16, 2021—DENTON—Two Texas Woman's doctoral candidates will spend the next year creating programs serving and advocating for members of minority communities through the prestigious Dallas-Fort Worth Albert Schweitzer Fellowship program.
Paloma Silva ('23) and Tamara Starling ('23), who are pursuing PhDs in school psychology, are two of 13 students across North Texas selected for Schweitzer Fellowships, a cohort-based program in which graduate and medical students create innovative programs fulfilling unmet health and wellbeing needs within Dallas-Fort Worth communities.
Silva's project serves families who have been historically underserved from the public school system and, more specifically, from the special education qualification process. She is developing a training series for culturally and linguistically diverse parents of children with disabilities, in partnership with the Denton Independent School District and its special education department. Silva's goal is to foster a sense of stability and growth, empowering parents to become self-advocates to promote their children's success throughout their lives.
"As I progress through my clinical experience in public education settings, I see that families with diverse backgrounds are facing the same barriers I had to overcome [as a child]," Silva said. "Educational settings can be foreign, isolating and, at times, defeating territory because of the lack of representation and authentic connection to school personnel to work with primarily low-income and vulnerable populations."
Starling, TWU's other Schweitzer Fellow, is implementing a support group curriculum focused on the Black experience through her project with the Dallas-based youth organization THR!VE Intern & Leadership Program at Friendship-West Baptist Church in Dallas. She is creating a space for Black high school students to talk with their peers and group leaders about issues related to the Black experience.
"As Black students navigate stressors implemented by race, racial trauma, social injustice and microaggressions in the workplace or school, it will always be important for them to build a community in which they feel supported," Starling said. "Students will be provided a social emotional learning curriculum that will give them the tools to better understand and manage their emotions and behaviors as they grow and develop."
By facilitating this support group, Starling aims to create a safe, enriching environment where Black students can find comfort in sharing their experiences and exploring their self identity through facilitator-led activities.
Both Silva and Starling will use their degrees and this fellowship to help them launch their careers post-graduation. Starling, who calls Mesquite, Texas, her hometown, plans to eventually open her own school, based on her involvement in social-emotional curriculum development, community program development and advocacy for Black students. San Juan, Texas, native Silva wants to become a bilingual neuro school psychologist with the goal of opening a non-profit foundation to help support Latino students in their educational needs.
"Once again, TWU's students are being recognized for their innovative ideas and caring spirit," said Holly Hansen-Thomas, TWU's Vice Provost of Research and Innovation and Graduate School Dean. "We are proud to have two Schweitzer Fellows this year, and I know Tamara and Paloma will excel with their impactful community programs just as they do with their educational pursuits."
Since TWU joined the DFW chapter in 2015, one graduate student has participated in the Schweitzer Fellowship annually.
The 13 Dallas-Fort Worth Fellows will join approximately 250 other 2021-22 Albert Schweitzer Fellows working through a network of 14 other chapters around the United States. Upon completion of their fellowship, the 2021-22 Dallas-Fort Worth Albert Schweitzer Fellows will become Schweitzer Fellows for Life and join a vibrant network of more than 3,400 Schweitzer alumni who are skilled in, and committed to, addressing the health needs of underserved people throughout their careers.
The Dallas-Fort Worth Albert Schweitzer Fellows Program marks a unique collaboration between seven Dallas-Fort Worth universities. Housed at Southern Methodist University, supporting institutions include Baylor University's Louise Herrington School of Nursing, Texas Christian University, Texas Woman's University, the University of Texas at Arlington, the University of Texas at Dallas, and UT Southwestern Medical Center.
Media Contact
Deanna W. Titzler
Director of Public Relations
940-898-3252
dtitzler@twu.edu
Page last updated 4:01 PM, September 23, 2022