Psychology professor receives 2021 state advocacy award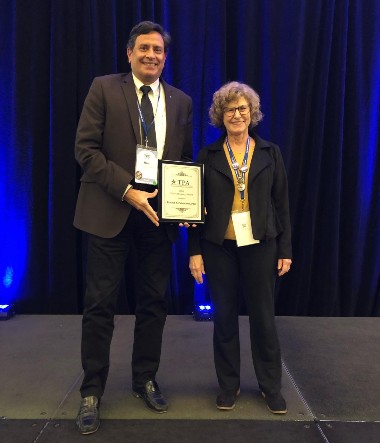 December 2, 2021—DENTON—Ronald Palomares-Fernandez, Ph.D., associate professor of psychology at Texas Woman's University, has received the Texas Psychological Association (TPA) 2021 State Advocacy Award for his commitment to the advancement of the psychology profession and discipline at the state regulatory level.
In 2019 Palomares-Fernandez developed the biannual, elective graduate course "Politics and Psychology." Every two years, students in his course study current legislation related to psychology as it is introduced during the Texas legislative session. The course culminates with a visit to the state Capitol in Austin, where students have the opportunity to meet with lawmakers and directly advocate for issues related to psychology and mental health.
Palomares-Fernandez was appointed by Texas Gov. Greg Abbott in 2016 to serve on the Texas State Board of Examiners of Psychologists (TSBEP) for six years. He was elected vice-chair in >2019 and served in the role until November 2021. "Throughout his tenure on the Board, Dr. Palomares has worked tirelessly to defend and uphold the high standards of the profession and to bolster the ability of TSBEP to honor the expertise of its licensees and fulfill its mission to protect the public," TPA President Fran Douglas, PsyD, said when presenting the award at the association's conference in November.
Palomares-Fernandez previously received the TPA's Outstanding Contribution to Public Service Award in 2015 and was honored by the Johanniter Order with a knighthood in 2018 for his global humanitarian work.
His many outreach projects include his work as a volunteer psychologist in Nepal following the devastating 2015 earthquakes and his time spent educating nurses, midwives and teachers in South Sudan on the key features of posttraumatic stress disorder and initial interventions.
In addition, he provides ongoing support and services to military families. His efforts on behalf of veterans were recognized when then-Second Lady Jill Biden, Ed.D., invited him to participate in Operation Educate the Educators, a commitment signed by more than 100 colleges and universities that aims to develop classroom and school cultures that are more responsive to the unique needs of children in military families.
In 2020, he participated in the TPA's COVID-19 Pro Bono Project, offering up to two hours of free telehealth and telemedicine services to Texas citizens in need of mental health care during the pandemic, regardless of insurance status.
About the Texas Psychological Association
The Texas Psychological Association is the professional organization for psychologists in the state. Founded in 1947, TPA's mission is to represent and enhance the profession of psychology in Texas, while promoting human health and welfare through education, science and practice.
Page last updated 10:05 AM, April 12, 2023