Excelencia in Education taps TWU PIONERAS program as finalist for national award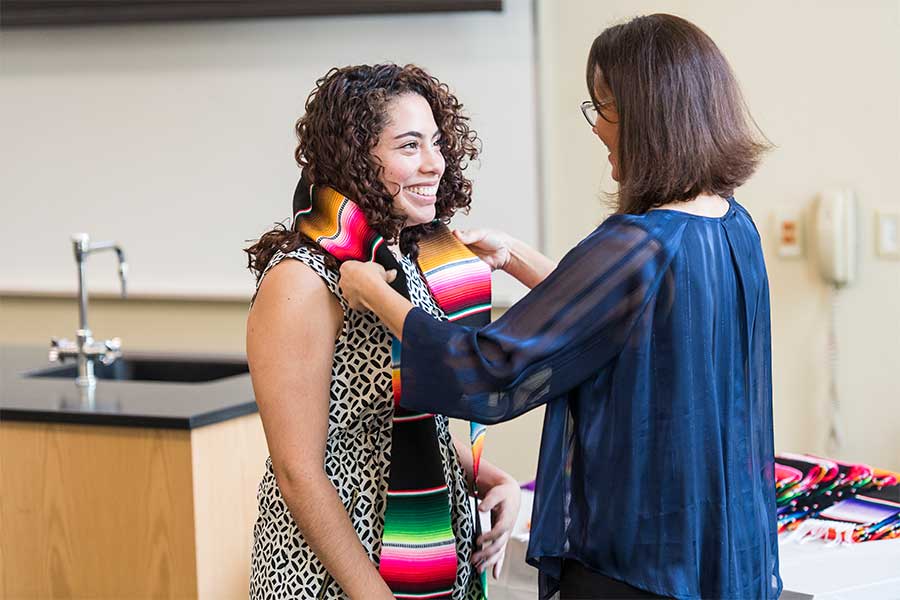 Sept. 10, 2021 — DENTON — Excelencia in Education, the nation's premier authority on efforts accelerating Latino student success in higher education, has selected Texas Woman's University's PIONERAS program as a finalist for its 2021 Examples of Excelencia award.
"Examples of Excelencia identifies evidence-based programs that show, with intentionality and impact, what it means to truly serve Latino students and not just enroll them," said Deborah Santiago, co-founder and CEO, of Excelencia in Education.
This year, Excelencia received 145 program submissions representing 23 states and Puerto Rico. The 21 finalists will be featured online as well as in Excelencia's Growing What Works Database – the only national online, searchable database for institutional leaders, funders and policymakers interested in identifying what works for Latino students.
On Oct. 28, four of the 21 finalists will be announced as the 2021 Examples of Excelencia and recognized at the annual Celebración de Excelencia. The national announcement of the four programs will be held virtually during the Celebración de Excelencia.
"We are thrilled to be selected as a finalist for this award," said Holly Hansen-Thomas, Ph.D., who is Texas Woman's vice provost for research and innovation and is director of the PIONERAS program. "Texas Woman's is committed to establishing programs that result in successful outcomes for some of our community's underserved populations, and our PIONERAS program provides high-impact training for bilingual teachers that not only enhances pedagogy but leads to an enriched experience for Emergent Bilingual students."
PIONERAS is a collaborative project between Texas Woman's and the Denton Independent School District sponsored by the U.S. Department of Education. It seeks to improve the language and literacy skills as well as the academic achievement of Spanish-dominant English Language Learners in schools with dual language programs.
Examples of Excelencia was created in 2005 and is the country's only national effort to identify, aggregate and promote evidence-based practices improving Latino student success in higher education.
About Excelencia in Education
Excelencia in Education accelerates Latino student success in higher education by promoting Latino student achievement, conducting analysis to inform educational policies, and advancing institutional practices while collaborating with those committed and ready to meet the mission. Launched in 2004 in the nation's capital, Excelencia has established a network of results-oriented educators and policymakers to address the U.S. economy's needs for a highly educated workforce and engaged civic leaders. For more information, visit the Excelencia website.
Media Contact
Matt Flores
Assistant Vice President, University Communications
940-898-3456
mattflores@twu.edu
Page last updated 2:43 PM, September 10, 2021