Bejarano awarded $30K grant for Latina political participation research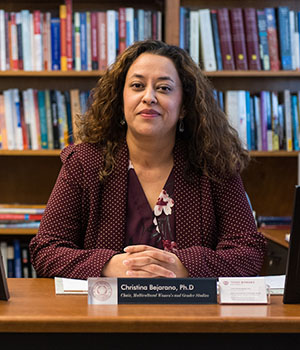 Feb. 4, 2021—DENTON—The Center for American Women and Politics (CAWP) recently awarded a $30,000 grant to facilitate "Mujeres, Movidas y Movimiento: A Comparative Study of Latina Candidate Emergence and Political Mobilization in California and Texas."
The research project, conducted by Christina Bejarano, Ph.D., professor of political science at Texas Woman's University, and Anna Sampaio, Ph.D., professor and chair of ethnic studies at Santa Clara University, was one of nine funded by the CAWP in 2021 to help identify and address challenges and opportunities for women's political participation.
According to CAWP, a record number of Latinas ran for congressional office in 2018, which was then surpassed in 2020. Bejarano and Sampaio's research will focus on California and Texas, states representing two opposite ends of the political spectrum with divergent histories regarding Latina political participation.
"Our research will examine and compare the experiences of Latina congressional candidates in both states. We will use our findings to identify barriers and provide recommendations for increased Latina representation across the country," said Bejarano.
Bejarano and Sampaio will analyze observational data and conduct interviews with Latina candidates as well as political consultants and fundraisers who were instrumental in congressional races featuring Latina candidates.
In a letter of acceptance, CAWP representatives said the project is "among the most promising to yield insights that can be translated into action to increase women's political power, including effective interventions to disrupt gender and/or intersectional biases in U.S. political institutions."
About CAWP
CAWP, a unit of the Eagleton Institute of Politics at Rutgers, The State University of New Jersey, is nationally recognized as the leading source of scholarly research and current data about women's political participation in the United States. Its mission is to promote greater knowledge and understanding about the role of women in American politics, enhance women's influence in public life, and expand the diversity of women in politics and government.
Page last updated 10:30 AM, February 4, 2021